Roque says tweets by Robredo, daughters triggered Duterte's rant vs VP
MANILA, Philippines — Presidential spokesperson Harry Roque on Thursday said tweets made by Vice President Leni Robredo and her daughters were behind the 20-minute rant of President Rodrigo Duterte against her in a public address.
Admitting he was not sure if Robredo indeed asked of Duterte's whereabouts, Roque showed screenshots of tweets made by the Vice President's daughters Tricia and Aika.
The said tweets, which asked if somebody was still asleep, did not contain any name nor the hashtag #NasaanAngPangulo (where is the President).
"Hindi po nakakatulong, bagamat hindi ko alam kung talagang nagsabi si Vice President kung nasaan si Presidente, e tignan niyo ito. Kung hindi man siya, merong mga malapit sa kanya na nagsabi," Roque said in an online briefing.
(It's not helping. Although I don't know if the Vice President asked where the President was, look at this. If not her, those who are close to her said it.)
"Ito, makita ninyo. Unang una, yung tweets ng mga malapit sa kanya, sarili niyang mga anak ata. 'Tulog pa rin? A las otso na,' galing po yan kay Tricia Robredo, hindi ko po alam ang relasyon nila. Yung galing naman po kay Aika Robredo, 'Sabado e, weekend.' Yan po ang konteksto," he added.
(Here, look at this. First, the tweets of those close to her, I think they are her children. 'Still asleep? It's already 8 o'clock. That came from Tricia Robredo. I'm not sure about their relationship. Aika Robredo said, 'It's Saturday, the weekend.' That's the context.)
Duterte falsely claimed that Robredo asked for his whereabouts when Typhoon Ulysses hit the country. Robredo has also since denied the accusation.
READ: Duterte calls Robredo 'dishonest' for allegedly questioning his absence during typhoon
READ: Helping during a calamity is not a contest, Robredo tells Duterte
Meanwhile, Roque said Duterte's remarks were "justified" as he showed Robredo's tweets on updates when several netizens asked for help following the massive flooding in Cagayan and Isabela due to Typhoon Ulysses.
"The President was justified. Now, hindi na po ako makiki-argue sayo. Nandyan na po yung mga tweet ni VP Leni. Sabi niya, hindi niya inaako na parang siya yung calling the shots during the typhoon. Ayan yung mga tweets niya," Roque said.
(The President was justified. Now, I won't argue anymore. Here are the tweets of VP Leni. She said she was not making it appear that she was calling the shots during the typhoon. Here are her tweets.)
"Ito po ang dahilan kung bakit talagang nawalan ng pasensya ang ating Presidente," he added.
(These are the reasons why the President lost his patience.)
Robredo has made it clear that she did not order the military and police, but only sent out information of people asking to be rescued that her office was receiving.
/MUF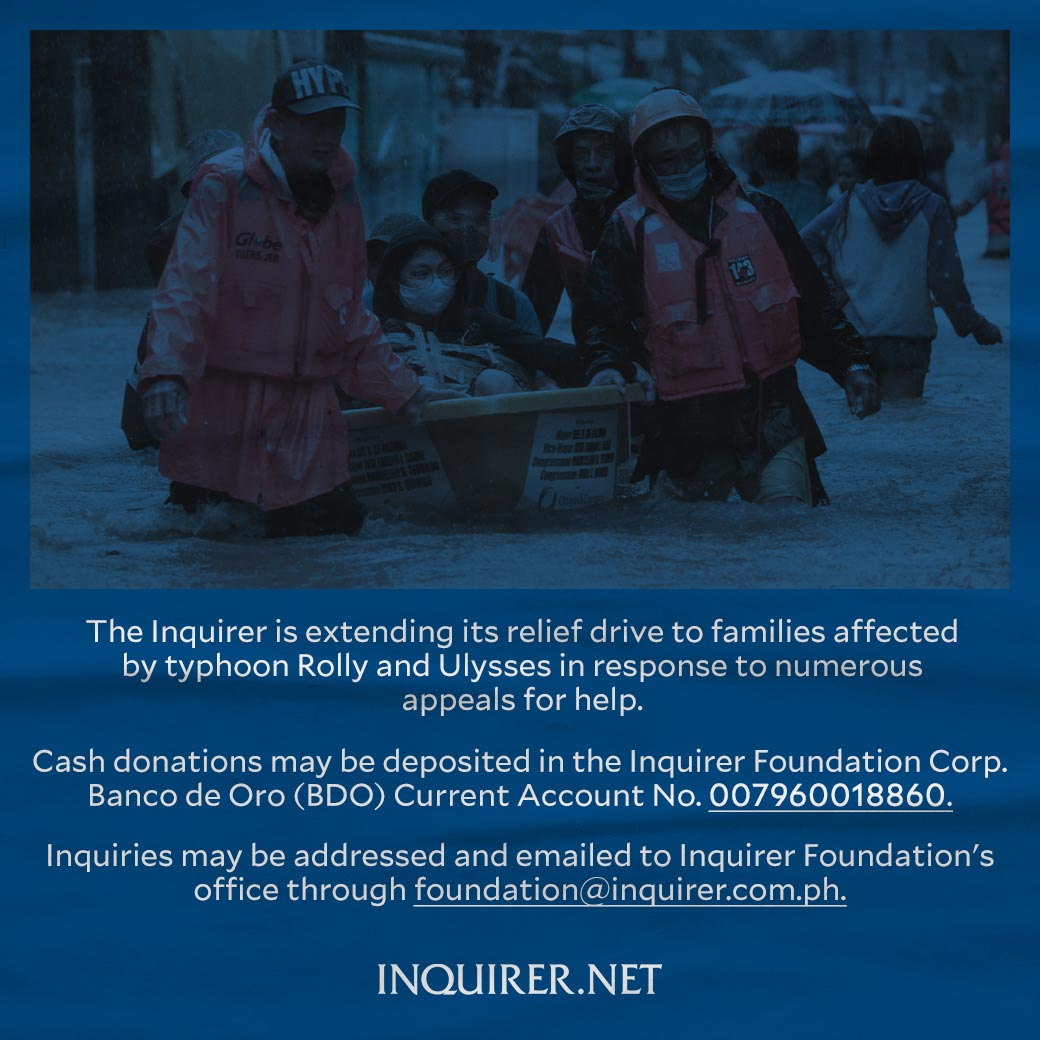 Subscribe to INQUIRER PLUS to get access to The Philippine Daily Inquirer & other 70+ titles, share up to 5 gadgets, listen to the news, download as early as 4am & share articles on social media. Call 896 6000.