DIGITAL CUTOFF
Typhoon Ulysses also disrupts mobile, internet services
Telecommunications services in Metro Manila and other parts of Luzon were disrupted as Typhoon "Ulysses" (international name: Vamco) slammed into the country on Wednesday.
Communications and internet services were knocked out in areas due to fiber cuts and the loss of commercial power sources required by cell sites.
PLDT Inc. and Globe Telecom said repairs were underway as the storm exited the Philippines.
Globe said parts of Metro Manila had intermittent to no signal as of Thursday afternoon. It said backup generators and clean energy fuel cells were deployed to power cell sites.
Camarines Sur and Pampanga were also "heavily affected with service disruptions."
"Due to strong winds of Typhoon Ulysses, there were multiple fiber cuts reported in selected areas in [northern Luzon, southern Luzon] and one in [the National Capital Region]. Despite these, the Globe network remains stable with no major damages incurred," Globe said in an advisory.
Resuming repairs
"Clean energy fuel cells and generators deployed are powering up our cell sites given the current power challenges," Globe said, adding that the provinces of Camarines Sur and Pampanga have been heavily affected with service disruptions.
"We will continue to provide service updates to our customers, while repairs for areas flooded will resume as soon as access and safety is secured," Globe said.
For its part, PLDT and its wireless unit Smart said that "areas with commercial power failure have made it difficult for our subscribers to use their mobile data."
"Our teams are monitoring the situation and will work to restore services as soon as it is safe to do so," said PLDT-Smart first vice president and group head of corporate communications Cathy Yang.
"Our network personnel, resources and equipment have been prepositioned to work on sites affected by Typhoon Ulysses," Yang said.
Yang said PLDT and Smart Stores would be temporarily closed in Metro Manila, Central Luzon, northern Luzon (Nueva Vizcaya and Pangasinan) and southern Luzon (all stores except those in Bicol).
PLDT-Smart said it was ready to provide Libreng Tawag, Libreng Charging and Libreng WiFi services "where the public needs it most, once it is safe to do so."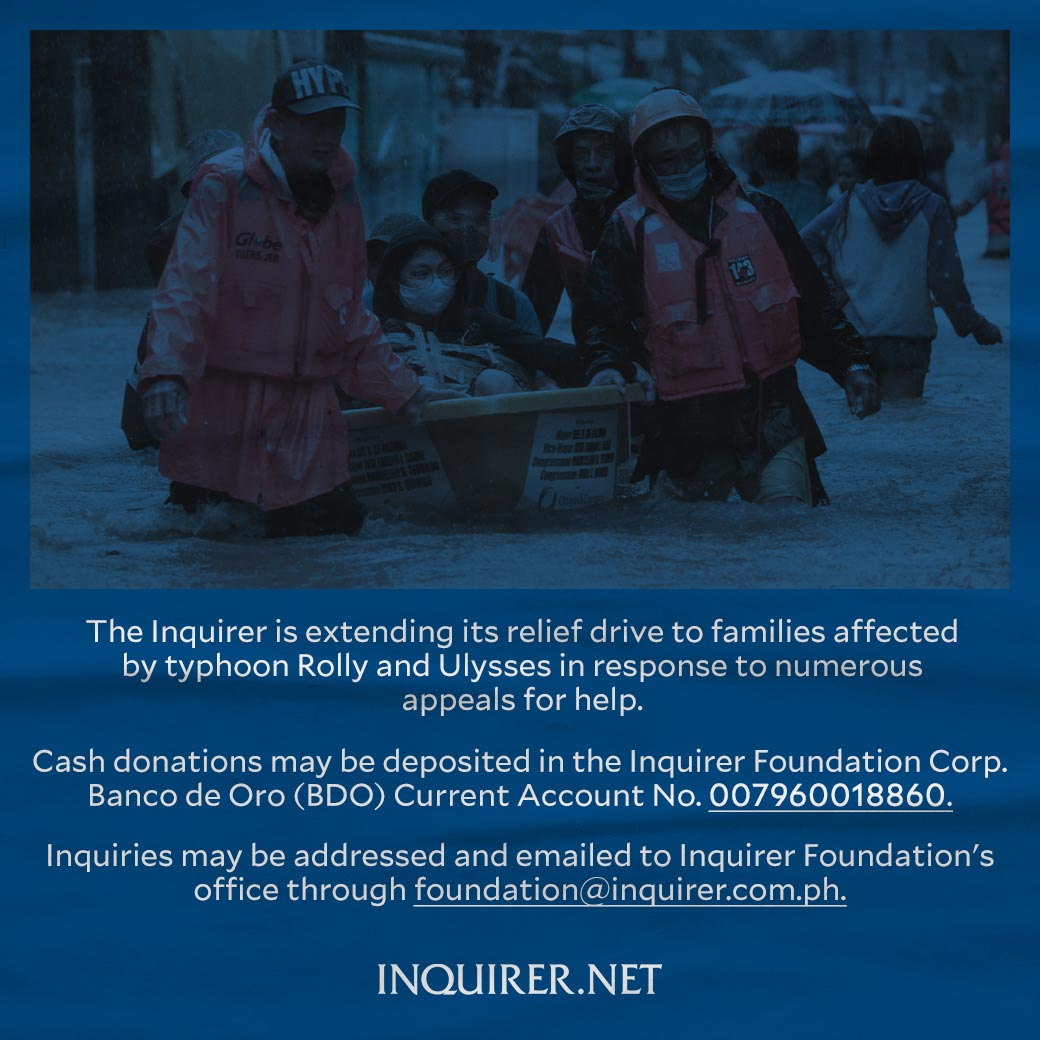 Subscribe to INQUIRER PLUS to get access to The Philippine Daily Inquirer & other 70+ titles, share up to 5 gadgets, listen to the news, download as early as 4am & share articles on social media. Call 896 6000.