'PUBLIC NOW MORE AWARE'
Typhoon Ulysses: Less rain than Ondoy
Typhoon Ulysses (international name: Vamco) dumped lesser rain for a longer period of time over Metro Manila compared with Tropical Storm Ondoy (Ketsana), but thousands of storm-weary residents cannot help recalling painful memories of the 2009 disaster that sank swaths of the metropolis in chest-deep floodwaters.
Data from the state weather service Philippine Atmospheric, Geophysical and Astronomical Services Administration (Pagasa) showed that Ulysses dumped lesser rain than Ondoy during its onslaught in Metro Manila, but a large volume of rainfall on upstream Marikina and Pasig rivers and the storms that struck one after another from late October to early November could have affected how the waterways swelled and flooded the metropolis.
356 mm of rainfall
Between Wednesday morning and Thursday morning, Ulysses dumped 356 millimeters of rainfall on Tanay, Rizal, according to data from Pagasa's Sierra Madre monitoring station above the town.
It was the largest volume of rainfall collected from Ulysses, Pagasa weather specialist Ariel Rojas said on Thursday.
"It is possible that the strongest rains were dumped [on] the mountains, which could have caused the flooding in parts of the Marikina River basin," Rojas said at a press briefing.
The rain brought by previous storms "Quinta" (Molave), "Rolly" (Goni) and "Tonyo" (Etau) could have also affected the swift rise in the water levels of the rivers, even though the three earlier cyclones did not directly hit Metro Manila.
"The ground is already saturated, so its capacity to absorb water is already lessened," Rojas said. "This means that the runoff already went straight to the rivers and to the downstream."
Monitoring stations along the Marikina-Pasig River system collected an average of 234 mm of rainfall within 11 hours, Pagasa said.
That volume was less than the rainfall collected from Ondoy, which reached an average of 330 mm in just six to eight hours of torrential rain on Sept. 26, 2009.
More rain from Ondoy
Weather forecasters said Ulysses moved faster than Ondoy, which crawled across Luzon at 15 kilometers per hour. The storm's slow movement allowed it to dump more rain as it crossed Central Luzon and hovered over Metro Manila, they said.
"During Ondoy, there was heavy rainfall both over the upstream and the downstream of the Marikina-Pasig River," Pagasa hydrologist Sheila Schneider told the Inquirer. "During that time, we had more rainfall in a shorter period of time."
In Quezon City, Pagasa recorded 153 mm of rainfall from Ulysses within a 24-hour period, much less compared with 455 mm of rain collected from Ondoy in the same area.
But the rain dumped by Ulysses on Quezon City was beyond the normal average rainfall of 148 mm that the city usually receives during November.
Even with lesser rain in Metro Manila, Ulysses still pushed Pagasa's monitoring stations along the rivers of Marikina-Pasig, San Juan and Tullahan beyond critical levels as early as Wednesday night, or even before making landfall in Quezon province.
Monitoring stations in Montalban and Burgos in Rizal province breached critical levels at 9 p.m. on Wednesday, while those located in San Mateo in Rizal and Santo Niño and Marcos Highway in Marikina City pushed past the critical point early Thursday.
Deforestation
In determining the cause of floods in the metropolis, Schneider said there was also a need to look into the condition of the Upper Marikina River Basin, also known as the Upper Marikina Watershed, which could affect the flow of the rainwater toward the rivers snaking through Metro Manila.
Deforestation in the watershed gravely contributed to the unprecedented flooding that led to hundreds of casualties across Metro Manila, but particularly in flood-prone areas in Marikina and Pasig cities, during Ondoy, she said.
"But one main difference now is that the public is more aware," Schneider said, adding that even Pagasa upgraded its own tools and warning systems after the 2009 storm.
"Even the local governments are now more knowledgeable on what to expect when a storm is coming," she said.
After weeks of devastating storms, battered communities, especially on the east coast, can temporarily heave a sigh of relief as no weather disturbance is expected, at least for the next few days.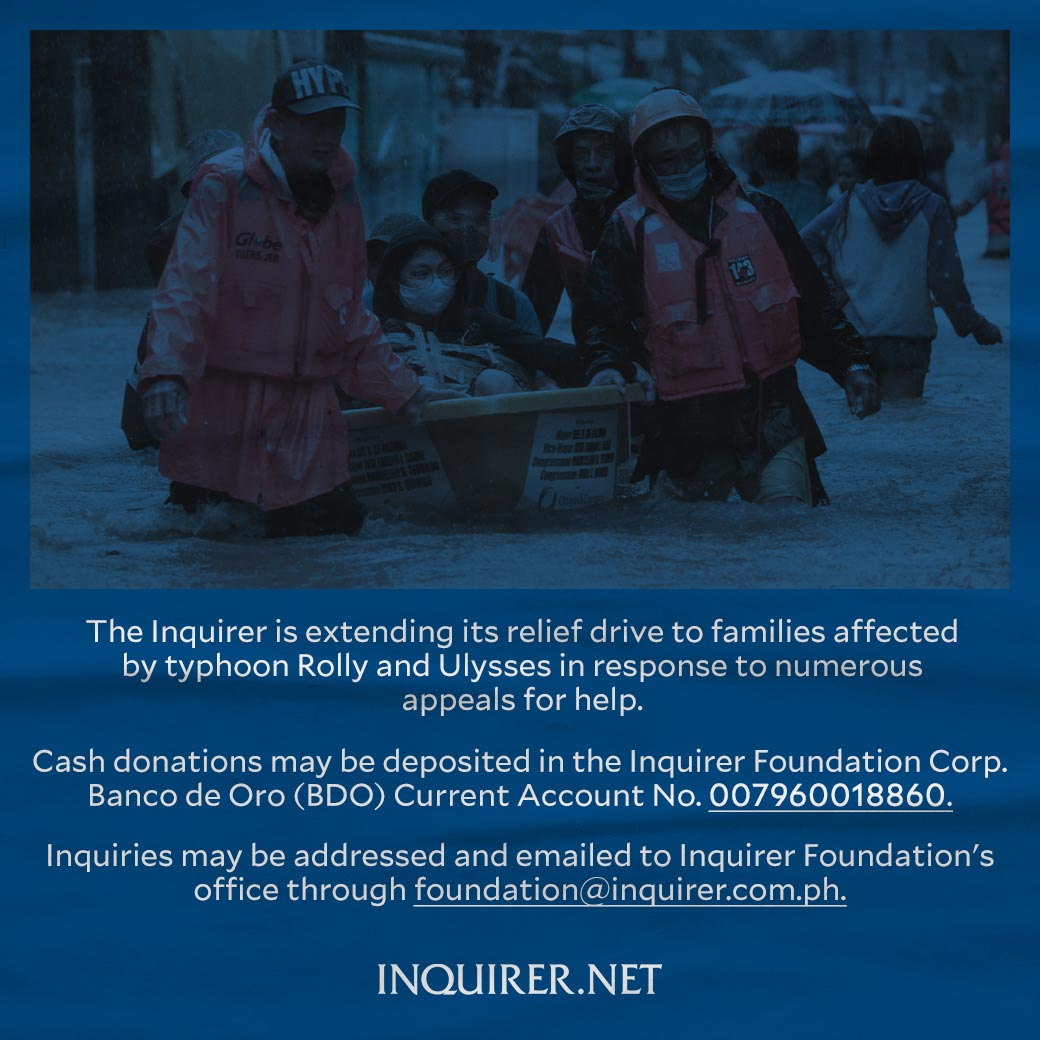 Subscribe to INQUIRER PLUS to get access to The Philippine Daily Inquirer & other 70+ titles, share up to 5 gadgets, listen to the news, download as early as 4am & share articles on social media. Call 896 6000.