Duterte: Gov't on top of Ulysses situation, does not sleep anymore
MANILA, Philippines —"Wala kaming tulog dito." (We do not have any sleep here)
This was President Rodrigo Duterte's response to critics questioning the supposed inaction of the government as Typhoon Ulysses pounded parts of Luzon and caused flooding in some areas.
"May mga nagsasabi na walang ginagawa, natutulog, wala kaming tulog dito," Duterte said in a speech Thursday.
(There are those who say that we're not doing anything, that we are just sleeping, we don't have any sleep here.)
#NasaanAngPangulo (where is the President) became a trending topic on Twitter as several residents asked for rescue online following Ulysses' impact.
Duterte on Thursday morning attended the virtual summit of the Association of Southeast Asian Nations.
"My countrymen, mga kababayan, while we are facing the heavy downpour and strong winds of Ulysses, I assure everyone that the government is on top of the situation. From the beginning, various government agencies have already been mobilized to respond to the situation on the ground," said the President.
Duterte said he already mobilized to use the assets of the Philippine Coast Guard, Philippine Navy, and Philippine Air Force to respond to stranded residents.
"I guarantee you that the government will do its best to provide assistance in the form of shelters, relief goods, financial aid, and post-disaster counseling. Rest assured the government will not leave anybody behind. We will get through this crisis, I assure you," he added.
Five provinces in Luzon remain under Tropical Cyclone Wind Signal No. 3 as Ulysses was last spotted west of Iba, Zambales.
Ulysses is expected to exit the Philippine Area of Responsibility by Friday morning, the state weather bureau said.
/MUF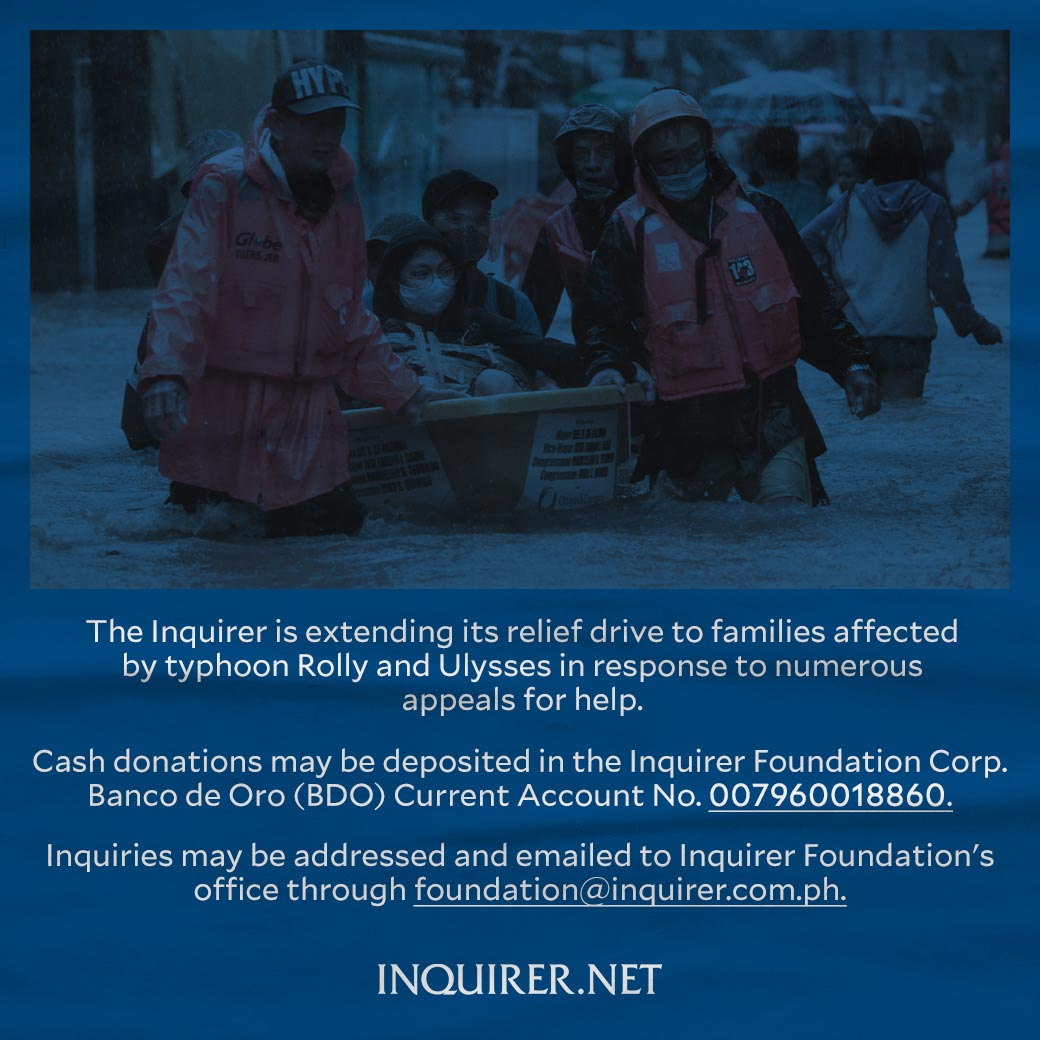 Subscribe to INQUIRER PLUS to get access to The Philippine Daily Inquirer & other 70+ titles, share up to 5 gadgets, listen to the news, download as early as 4am & share articles on social media. Call 896 6000.