Hundreds of families flee from 'Ulysses'
SAN PEDRO CITY — Hundreds of families were forcibly evacuated by their local governments on Wednesday, while remote classes and work in private and government offices were cut short as Southern Tagalog braced anew for Typhoon "Ulysses," the third storm to hit them in a row.
Many of them were from the same communities that, not too long ago, fled from floods and landslides during the previous typhoons "Rolly," which lashed through the region on November 2, and Quinta, which occurred on Oct. 23.
In Carmona, Cavite, 243 families (977 persons) were evacuated from the villages of Rosario, Milagrosa, Maduya, Cabilang-baybay, Mabuhay, Poblacion, Lantic, and Bancal.
Mass evacuations weras also enforced in Agoncillo town and Batangas City, specifically in the villages of Cuta, Malitam, Pallocan West, and San Isidro in Batangas province.
Disaster responders and managers renewed its call to observe physical distancing, saying health protocols against the coronavirus disease (COVID-19) were breached during the last two typhoons.
"We wanted to make sure that (COVID-19) isolation facilities are a different facility from evacuation centers. Since there are no (face-to-face) classes, better to use schools," said Alex Masiglat, spokesperson of the Disaster Risk Reduction and Management office in Cavite, Laguna, Batangas, Rizal, Quezon (CALABARZON).
Floods
In Rizal province, families were evacuated from Binangonan and San Pedro City in Laguna, amid warnings of possible seiches or strong current and flooding along the Laguna Lake.
In Quezon, a preemptive evacuation was implemented in the towns of Jomalig, General Nakar, Patnanungan, Polilio, Real, Burdeos, Infanta, Tagkawayan, San Narciso, and Buenavista.
The DRRMC said floods were reported in Lopez, San Francisco, and Tagkawayan, Quezon.
About 80 passengers were stranded at the Batangas City port after all trips of sea vessels were suspended.
LZB
Subscribe to our daily newsletter
Click here for more weather related news.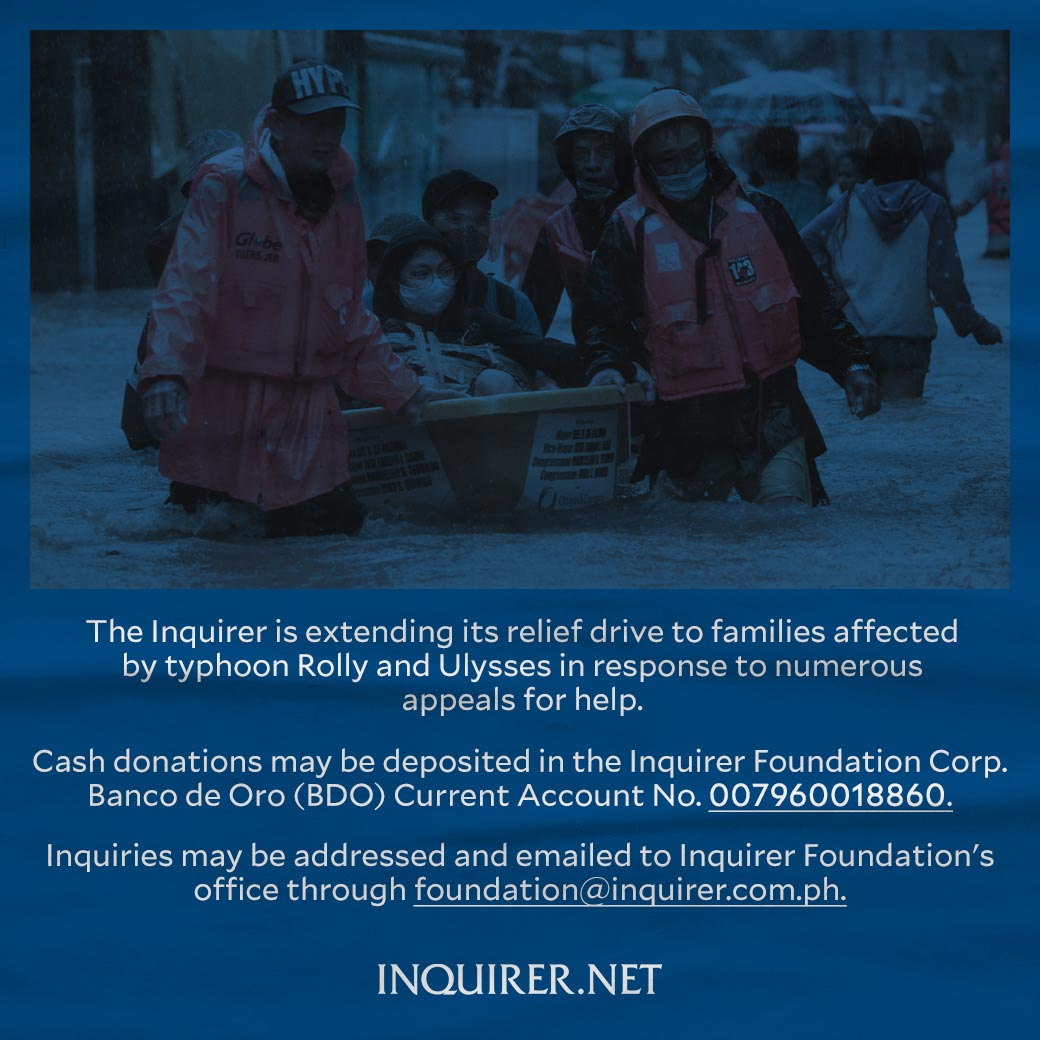 Subscribe to INQUIRER PLUS to get access to The Philippine Daily Inquirer & other 70+ titles, share up to 5 gadgets, listen to the news, download as early as 4am & share articles on social media. Call 896 6000.