Tales of death, destruction and survival in Guinobatan
GUINOBATAN, ALBAY—After seeing Emmanuel Manrique, 11, for the first time since Typhoon "Rolly" (international name: Goni) devastated their community at the foot of Mayon Volcano, the family's longtime neighbor could not help but give him a hug.
The Manriques' neighbor, a woman in her 40s, dusted off Emmanuel's hair and asked how he was keeping up.
All that the still-dazed boy could mutter was that his oldest sister, Mikaella, 18, and their mother, Elve, 50, were still missing after their house in the village of San Francisco was buried in lahar at the height of Rolly's onslaught on Nov. 1.
The encounter happened on the day before the official report of the Office of Civil Defense in Bicol moved Elve's and Mikaella's names from the list of the missing to the list of fatalities on Tuesday.
On Wednesday, Joy Maravillas, Guinobatan's disaster risk reduction and management officer, said retrieval was already underway for the Manriques.
"The house where they were last seen seeking shelter must be dug up using heavy equipment. We can't dig it up manually anymore," she told the Inquirer, adding that any hope to find them alive was low.
The Manriques also lost 5-year-old Samuel to the raging lahar and boulders from Mount Mayon. His body was found some 30 kilometers away in Oas town, meeting the same fate of another Guinobatan resident, 18-year-old Dave Ongaria.
As of Wednesday morning, the death toll from the typhoon in Guinobatan was pegged at six, with 9-year-old Enrique Sanchez Jr. also on the list.
Destruction
The Inquirer followed Emmanuel around from the evacuation center at Marcial O. Rañola Memorial School in San Francisco village, where he and his 15-year-old sister, Maria Luisa, stayed, to the village of Kuwait, where a 13-year-old sister, Hannah Mae, was recovering from wounds and trauma.
The 10-minute walk brought him back to his lahar-covered neighborhood, where the carcasses of carabaos lie on the ground and residents gingerly tried to cross streets that have turned to stream.
Boulders and lahar also covered rice fields.
"This was a rice field before. Now it's a desert," Emmanuel told the Inquirer.
Emmanuel is the son of Salvador Manrique, who is the subject of the now-viral post from Philippine Red Cross that recounts his experience during the onslaught of Rolly.
While passing by a few plants that survived the wrath of the typhoon, Emmanuel quietly said, "My mother and I both like planting. We are the only ones in the family who like plants."
Survival
He pointed to a spot where the flood washed away his friend, who was lucky enough to survive.
Emmanuel was saved by holding on to a plastic bag full of clothes. His sister, Maria Luisa, held on to a tree.
"When the water subsided, I was only left with my shirt," he told the Inquirer. "We did not have any appetite to eat after that. We swallowed too much sand."He said the rocks they saw when they were being washed away were "bigger than us."
"All I can think of were my siblings," he said.
Death
Back at the evacuation center, Helen de los Angeles, 42, sat next to a coffin.
Her husband, Santiago, 37, died in the hospital from hypertension after escaping from the rapid rise of water in Travesia village.
When the water started going up on Sunday morning at the height of Rolly, which packed winds of up to 260 km per hour and gustiness of up to 300 kph when it pummeled Bicol, the De los Angeles couple and their son rushed outside.
"[Santiago] started to feel weak and let go of us," Helen recalled. "When we reached safer ground, he was already stressed out after realizing that our house had been washed out and that all our ducks were gone."
Helen said she tried to calm down her husband by telling him what was important was that they were able to get out of the flood safely.
The Manriques and the De los Angeleses had yet to receive advice on any relocation plan as of Wednesday.
"I don't think I will be able to return there," Helen told Inquirer.
"I have to see whether someone will be able to help me and if the village captain would let us come back. Those are the only ways I can think of for me to be able to come back," she said.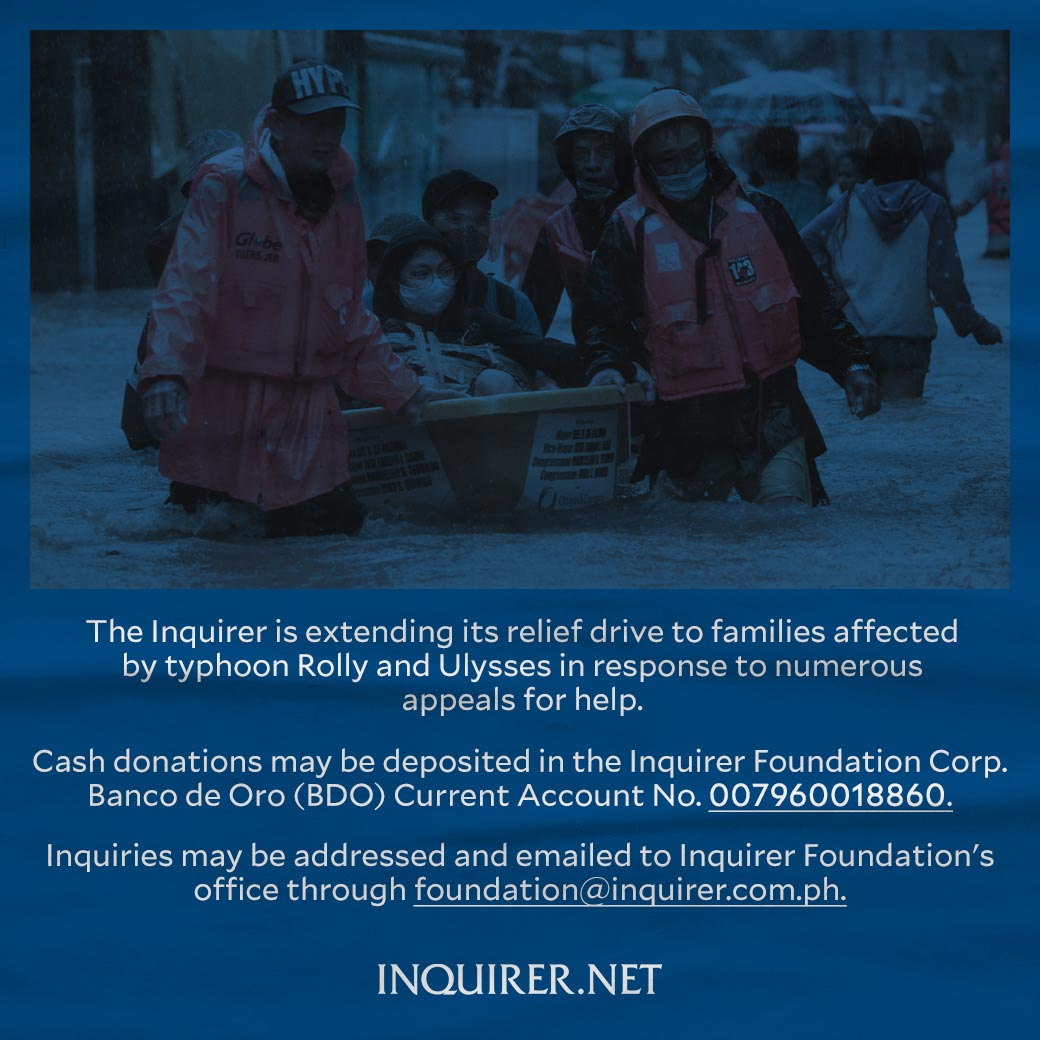 Subscribe to INQUIRER PLUS to get access to The Philippine Daily Inquirer & other 70+ titles, share up to 5 gadgets, listen to the news, download as early as 4am & share articles on social media. Call 896 6000.