'Parang Yolanda': Red Cross sees heavy typhoon damage in Catanduanes
MANILA, Philippines — The Philippine Red Cross on Monday estimated that damage caused by Super Typhoon Rolly in Catanduanes is equivalent to 70 percent of damage left behind by Super Typhoon Yolanda in 2013, PRC Chairman Sen. Richard Gordon said, citing an initial visual assessment.
"According to him (PRC chapter administrator), it's almost like 70 percent of Haiyan (Yolanda). That's what it looks like, I will preface my statement by saying that this is visual. We're just now sending people in every town," PRC chairman Senator Richard Gordon said in an interview on ABS-CBN News Channel.
"Visual. One looks at it and interprets it and then he observes. That's what he's done. But we will have a more technical and more scientific assessment as we bring our people," he added.
The visual report submitted by the PRC's chapter in Catanduanes so far showed the damage caused by Rolly in three of the province's towns, according to Gordon.
"Parang Haiyan ito e. Parang Yolanda [This is like Haiyan. Like Yolanda]…I'm having them take pictures of the destruction, particularly houses," Gordon said in a separate online interview with reporters.
He said that in the municipality of Virac, 80 to 90 percent of the houses have been damaged.
"Yung supermarket ng Virac totally damaged. 'Yung airport and seaport, no major damage. Yung mga ospital, minor damage," he also noted.
(The supermarket in Virac was totally damaged. The airport and seaport, no major damage. The hospitals, minor damage.)
Meanwhile, Rolly caused damage to 50 percent and 80 percent of the houses in San Andres and in Bato, respectively.
"By this afternoon, I'm sure we'll get a report on the rest of the towns and a more accurate report because they'll be counting totally damaged homes and partially damaged homes," Gordon went on.
The senator said the PRC team still has to assess eight more towns in Catanduanes.
Gordon, meanwhile, said that the PRC will send water and fuel tanks, generators, as well as tarpaulins and communication devices to Catanduanes.
"They have no water, totally without water, we're sending three water tankers, 10,000 liters perhaps more because I suppose the whole province will need it," he said.
"At the same time, we're going to be making water. We'll have water producing machines," he added.
The PRC will also be putting up a desalination facility donated by Israel, according to Gordon.
"We can get water from the ocean and try to add to the water supply of the province," he said.
A PRC team is currently on its way to Catanduanes with the said supplies, Gordon added.
The PRC has so far recorded six fatalities in the province.
Tropical Cyclone Wind Signal no. 5 was hoisted over Catanduanes early Sunday morning after Rolly made its first landfall in Bato town.  
gsg
Subscribe to our daily newsletter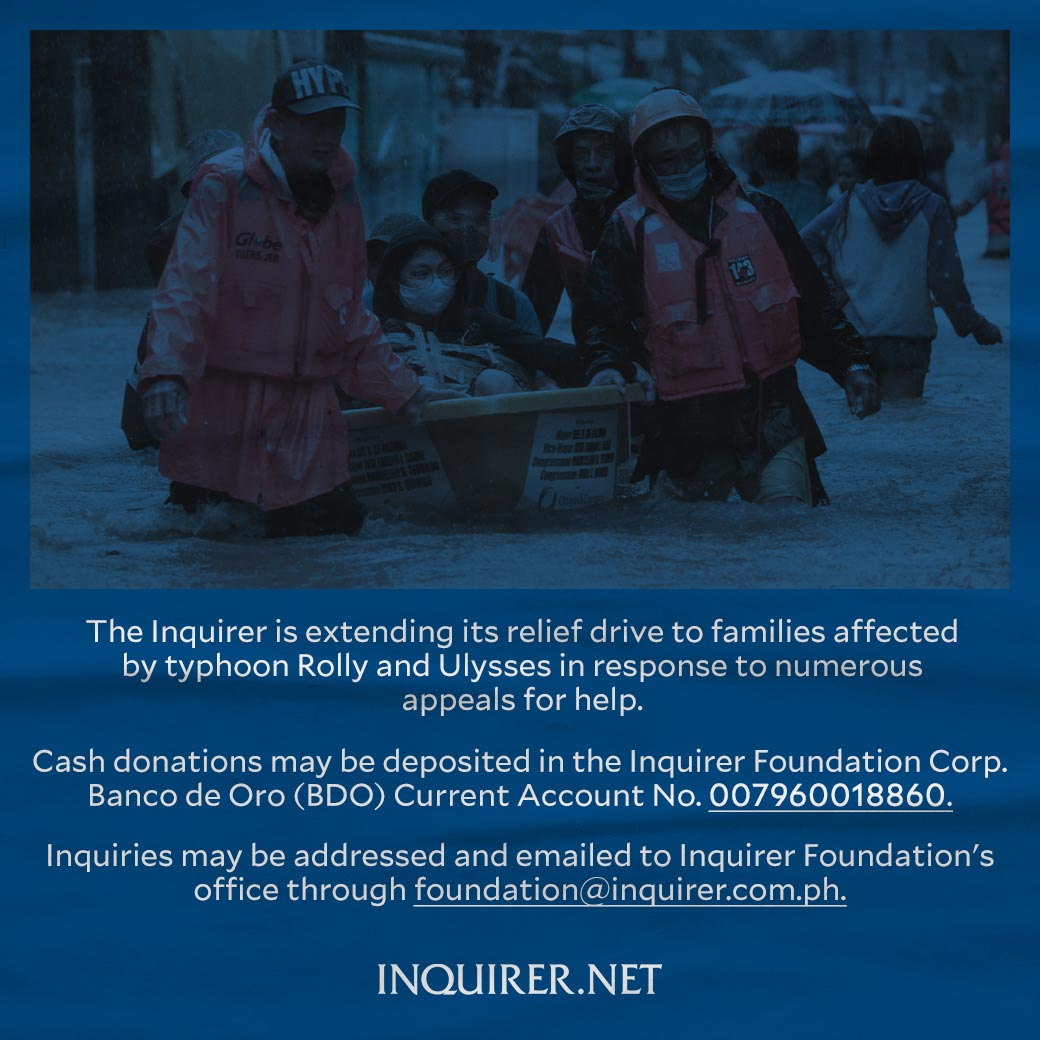 Subscribe to INQUIRER PLUS to get access to The Philippine Daily Inquirer & other 70+ titles, share up to 5 gadgets, listen to the news, download as early as 4am & share articles on social media. Call 896 6000.