'Rolly' prompts mass evacuations in Luzon
Officials ordered mass evacuations and stopped ferries and other vessels from sailing in waters off the country's northeastern seaboard on Friday as they braced for a possible super typhoon that was expected to slam into northern Luzon late this weekend.
Typhoon "Rolly" (international name: Goni) was already packing maximum winds of 185 kilometers per hour and gusts of up to 230 kph when it was spotted about 980 kilometers east of Casiguran, Aurora province, on Friday afternoon.
The Philippine Atmospheric, Geophysical and Astronomical Services Administration (Pagasa) said the typhoon was moving at 20 kph westward toward Aurora and Quezon, which were expected to be pummeled by up to 195 kph winds on Sunday night or early Monday.
Under Pagasa's tropical cyclone category, storms with winds above 220 kph are considered supertyphoons.
It has not forecast that Rolly might develop into a supertyphoon but the US Navy's Joint Typhoon Warning Center (JTWC) on Friday said the typhoon's sustained winds could reach 222 kph with gusts of up to 268 kph by Sunday.
Forecaster Anna Clauren explained that Pagasa's reading might differ from the JWTC because the Americans measure the average sustained winds within just one minute while Pagasa measures the average in 10 minutes.
Storm surges seen
The weather bureau said light to moderate showers and occasional heavy rains would be experienced until Saturday morning in Bicol, Eastern and Central Visayas, northern and northeastern Mindanao, Zamboanga Peninsula, Batanes, Cagayan and Isabela due to the effects of the typhoon.
Storm surges of up to 2 meters could also batter coastal areas along Rolly's track, Pagasa said.
Don Culvera, spokesperson for Camarines Norte's Incident Management Team, said provincial authorities on Friday morning started evacuating about 35,000 families, or 159,000 people, from high-risk areas, including Daet, the provincial capital.
The evacuation of residents of five coastal villages—Awitan, Bagasbas, Mambalite, San Isidro and Gubat—was a priority and would be completed by noon on Saturday, said Santiago Mella, the town's disaster risk reduction and management officer.
The typhoon was expected to be about 55 km north of Daet on Sunday afternoon, according to Pagasa.
Quezon on red alert
Mella said they hoped to complete by Saturday the evacuation of families in other towns like Vinzons, Mercedes, Paracale and Panganiban, which are prone to flash floods and landslides.
Quezon Gov. Danilo Suarez placed his province under red alert on Friday morning, according to Melchor Avenilla Jr., head of the Provincial Disaster Risk Reduction and Management Council.
Under red alert, operation and monitoring teams are required to be on duty 24/7 to respond to emergencies once the weather disturbance worsens, he said.
Avenilla said authorities in all local government units in Quezon had already prepared evacuation centers.
He said the Philippine Coast Guard had stopped giving travel permits since Friday morning to vessels in northern Quezon.
Officials in Aurora prepared food supplies, especially in Dingalan, in anticipation of floods, which could isolate the coastal town.
Dingalan Mayor Sherwin Taay ordered the Municipal Disaster Risk Reduction and Management Council to help evacuate families in low-lying villages.
Taay also banned fishing or sailing of small boats starting on Friday and suspended classes and the distribution of learning modules for students from Nov. 2 to Nov. 3.
'Quinta' damage still felt
Aurora and other Central Luzon provinces are still reeling from the damage left by two earlier storms—Typhoon "Pepito" (international name: Saudel) and Typhoon "Quinta" (international name: Molave).
Quinta damaged a flood control project in San Luis town and triggered floods in Dilasag and Casiguran towns, all in Aurora.
In Nueva Ecija province, the water level at Pantabangan Dam rose by 4 m in the aftermath of Pepito and Quinta, according to the National Irrigation Administration Upper Pampanga River Integrated Irrigation System.
But the dam's water level of 194.85 meters above sea level on Friday was still below its 221-masl spilling mark.
At the height of Quinta, several roads in Gabaldon town, also in Nueva Ecija, became impassable due to floodwaters.
In Pampanga province, 71 villages in at least seven towns remained flooded on Friday due to the swollen Pampanga River.
Floodwater rose up to 2 m in parts of Candaba town.
Claveria town in Cagayan province was placed under a state of calamity on Thursday after it incurred P12 million in damage from landslides and floods.
Floods also affected 5,000 families, or 21,000 people, in the town's 41 villages. At least 300 hectares of farms were also destroyed.
Also on Friday, the Isabela provincial government prohibited fishing and sailing and imposed a liquor ban.
In Manila, the Research Institute for Tropical Medicine (RITM) announced that it would be suspending its laboratory operations on Nov. 1 and Nov. 2 to prepare the facility for the onslaught of the typhoon.
RITM work suspended
RITM Director Celia Carlos said that the temporary shutdown was meant to ensure they would be able to address possible damage to their building and equipment, "which at this point may not be able to sustain the repeated onslaught of typhoons."
"We shall proceed with these risk mitigation measures fully understanding of our part in the ongoing outbreak response, while also ensuring the safety of our personnel, stakeholders and everyone who transports specimens to our facility," Carlos said in a statement.
As the country's main reference laboratory, RITM accounts for a sizable number of samples tested for the new coronavirus, which causes COVID-19. Since February, it has already processed more than 322,000 samples.
Among the precautionary measures RITM has taken is backing up files, data, systems and programs in case of rain damage and power interruption. It has also made arrangements with the Department of Health for the emergency transfer of the National Immunization Program vaccines stored in the facility. —REPORTS FROM NIKKA G. VALENZUELA, JOVIC YEE, ARMAND GALANG, TONETTE OREJAS, VILLAMOR VISAYA JR., DELFIN T. MALLARI JR., REY ANTHONY OSTRIA, MA. APRIL MIER-MANJARES AND INQUIRER RESEARCH INQ
Click here for more weather related news.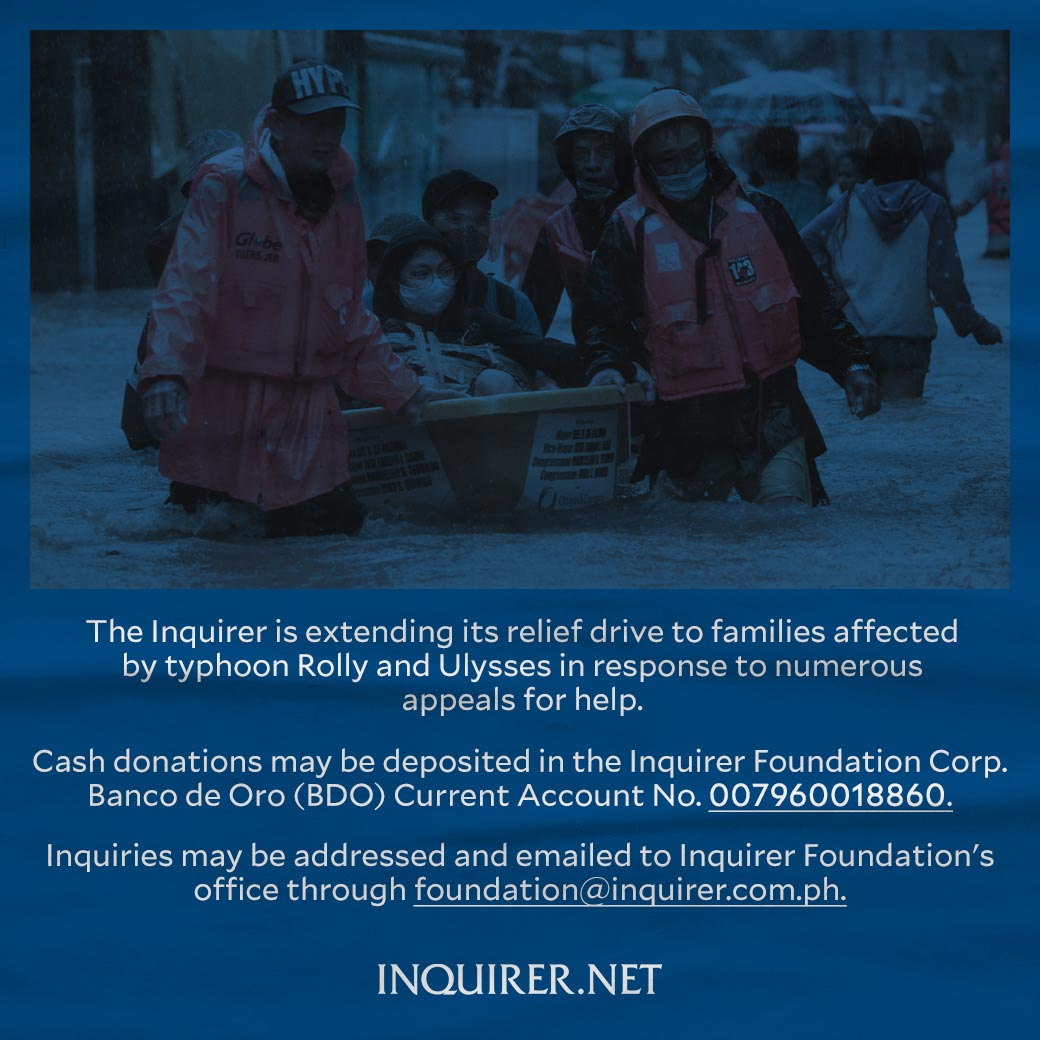 Subscribe to INQUIRER PLUS to get access to The Philippine Daily Inquirer & other 70+ titles, share up to 5 gadgets, listen to the news, download as early as 4am & share articles on social media. Call 896 6000.