Who will be the next Chief Justice? JBC opens nomination and application
MANILA, Philippines-The Judicial and Bar Council (JBC) has opened the nomination for the position of Chief Justice which will become vacant with the mandatory retirement of Chief Justice Lucas Bersamin on Oct. 18, 2019.
Deadline for the submission of complete sets of application or recommendation with conforme together will all the documentary requirements will be not later than 4:30 p.m. of Aug. 20, 2019.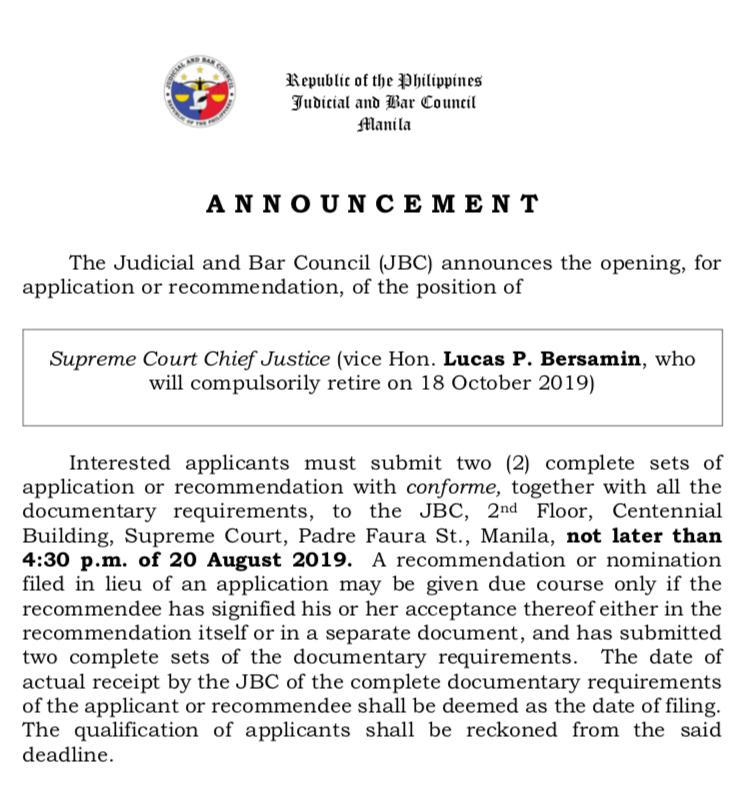 As required by the JBC rules, only nominations with a letter of acceptance from the nominee will be processed. The JBC is mandated by the Constitution to vet applicants in the Judiciary and top positions at the Office of the Ombudsman. It comes up with a shortlist which is then submitted to the President for final decision.
The five most senior Associate Justices of the Supreme Court are automatically nominated but they still have to submit letters of acceptance and other requirements.
With the upcoming retirements of Bersamin, Senior Associate Justice Antonio Carpio (Oct. 26), Associate Justices Mariano del Castillo (July 29) and Francis Jardeleza (Sept. 26), the five most senior justices will be Associate Justices Diosdado M. Peralta, Estela Perlas-Bernabe, Mario Victor Leonen, Alfredo Benjamin S. Caguioa and Andres B. Reyes Jr.
The next Chief Justice will be the third to be appointed by President Rodrigo Duterte.  The first Chief Justice appointed by Duterte was Teresita Leonardo-De Castro on Aug. 28, 2018 followed by Bersamin on Nov. 28, 2018. (Editor: Mike U. Frialde)
Subscribe to INQUIRER PLUS to get access to The Philippine Daily Inquirer & other 70+ titles, share up to 5 gadgets, listen to the news, download as early as 4am & share articles on social media. Call 896 6000.