Palace tells gov't agencies to support PH Asean hosting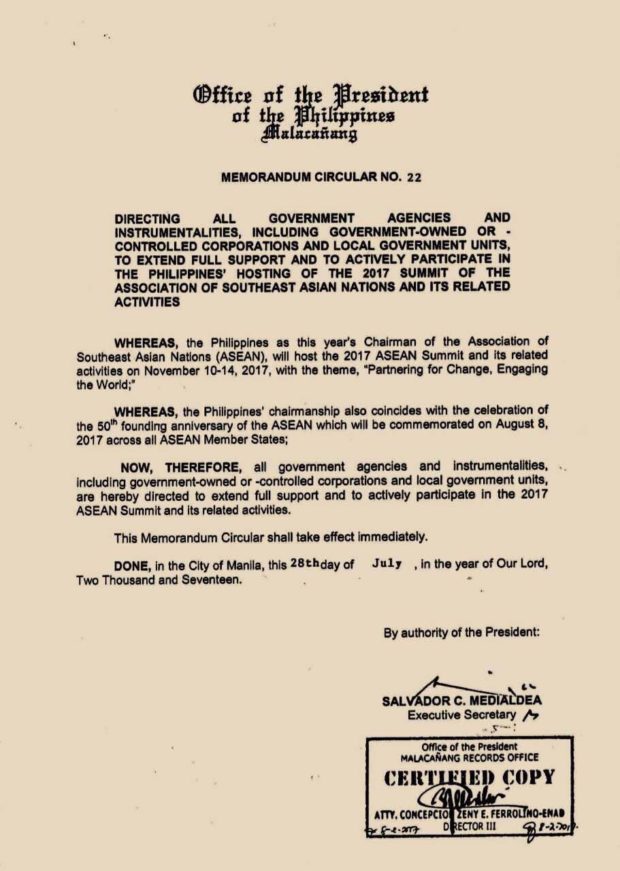 Malacañang on Thursday directed all government agencies to support and participate in the Philippines' hosting of the Association of Southeast Asian Nations (Asean) Summit 2017.
Executive Secretary Salvador Medialdea made the declaration by authority of President Rodrigo Duterte through Memorandum Circular No 22.
The memorandum said "all government agencies and instrumentalities, including government owned or controlled corporations and local government units" were mandated to assist and join in all Asean-related activities.
It also added that the Asean Summit and related meetings will be held on November 10-14, with the theme, "Partnering for Change, Engaging the World."
The Philippines' Asean chairmanship also coincides with the group's 50th founding anniversary to be commemorated on Tuesday, August 8. Airei Kim Guanga INQUIRER.net
Subscribe to INQUIRER PLUS to get access to The Philippine Daily Inquirer & other 70+ titles, share up to 5 gadgets, listen to the news, download as early as 4am & share articles on social media. Call 896 6000.