Strongest typhoon makes fifth landfall
First posted 11:51 am | Friday, November 8th, 2013
MANILA, Philippines —One of the most powerful typhoons ever recorded slammed into the Philippines, making its fifth landfall on the northern tip of Cebu Friday morning, the state weather bureau said.
Supertyphoon "Yolanda" (international name: Haiyan) downed communication and power lines and blocked roads in the central Philippines, which is still reeling from the devastating impact of a 7.2 magnitude quake in October.
The Philippine Atmospheric Geophysical and Astronomical Services Administration (Pagasa) placed over 50 provinces and towns under storm signals amid worries of serious damage and casualties.
Yolanda slightly weakened midday Friday after making landfall five times.
At 1 p.m., the typhoon was last observed in Cuartero, Capiz  with maximum sustained winds of 200 kilometers near the center and gusts of up to 230 kph, Pagasa said.
A foreign weather expert warned of "catastrophic damage."
Yolanda made fifth landfall in Concepcion, Iloilo at 12 noon and its fourth at 10:40 a.m. in Daanbantayan in the northern-tip of Cebu, Pagasa said.
Gener Quitlong of Pagasa told INQUIRER.net that Yolanda hit land for the third time in the northern tip of Cebu at 9:40 a.m.
Its first landfall was before 5 a.m. on Friday in Guiuan town in Eastern Samar, about 650 kilometers southeast of Manila, and made its second landfall two hours later in Dulag-Tolosa in Leyte.
Classes were suspended in the affected areas.
Quitlong said Yolanda has not yet shown signs of weakening because there is no large land mass to slow it down since the region is comprised of islands with no tall mountains.
Pagasa makes estimates based on longer periods of time than others, such as the US Navy's Joint Typhoon Warning Center, which said shortly before the typhoon made landfall that its maximum sustained winds were 314 kph, with gusts up to 379 kph.
"195-mile-per-hour winds, there aren't too many buildings constructed that can withstand that kind of wind," said Jeff Masters, a former hurricane meteorologist who is meteorology director at the private firm Weather Underground.
Masters said the storm had been poised to be the strongest tropical cyclone ever recorded at landfall. He warned of "catastrophic damage."
Yolanda's wind strength at landfall had been expected to beat out Hurricane Camille, which was 305 kph at landfall in the United States in 1969, Masters said.
Already authorities reported having trouble reaching colleagues in the landfall area, with forecaster Mario Palafox of Pagasa saying contact had been lost with staff in the landfall area.
More than 125,000 people had been evacuated from towns and villages in the typhoon's path, the National Disaster Risk Reduction and Management Council said. Among them were thousands of residents of Bohol who had been camped in tents and other makeshift shelters after a magnitude 7.2 earthquake devastated many towns on the island province.
Masters said the Philippines might get a small break because the storm is so fast moving that flooding from heavy rains — usually the cause of most deaths from typhoons in the Philippines — may not be as bad.
Officials in Cebu province have shut down electric service to the northern part of the province to avoid electrocutions in case power pylons are toppled, said assistant regional civil defense chief Flor Gaviola.
President Benigno Aquino assured the public of war-like preparations, with three C-130 air force cargo planes and 32 military helicopters and planes on standby, along with 20 navy ships.
The typhoon — the 24th serious storm to hit the Philippines this year — is forecast to barrel through the Philippines' central region Friday and Saturday before blowing toward the West Philippine Sea over the weekend, heading toward Vietnam. With a report from Julliane Love De Jesus, INQUIRER.net
RELATED STORIES
Close to 3,000 passengers stranded in various ports–PCG
Updated Palace announcement on suspension of classes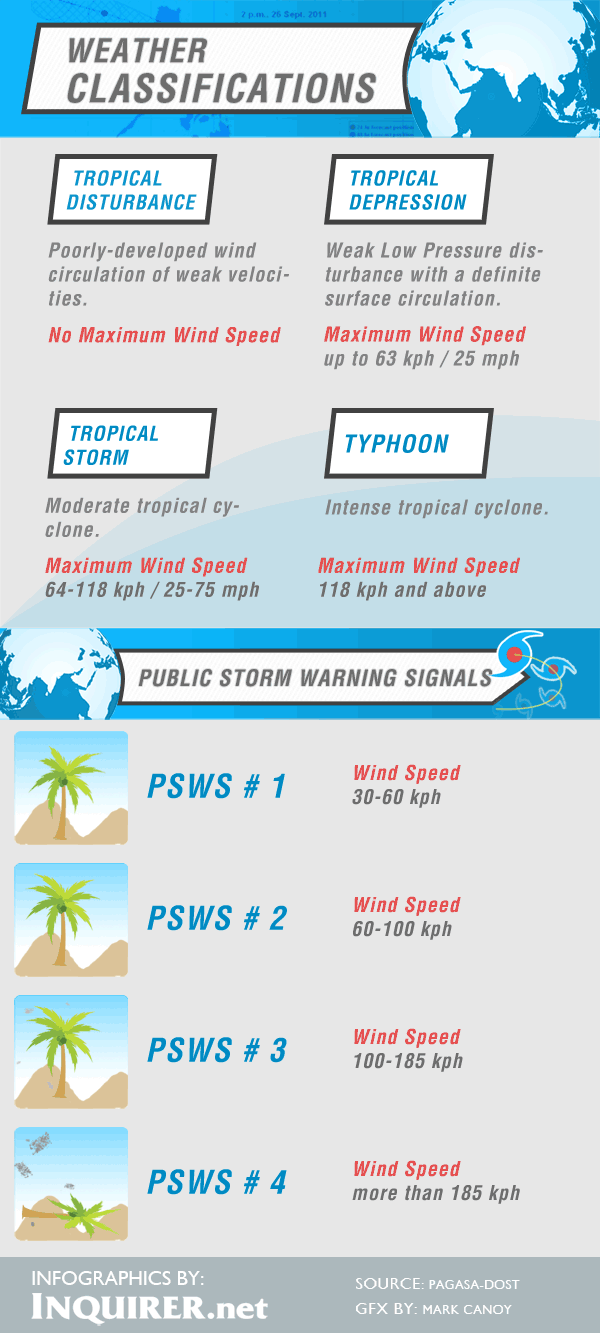 Subscribe to our daily newsletter
Click here for more weather related news.
Subscribe to INQUIRER PLUS to get access to The Philippine Daily Inquirer & other 70+ titles, share up to 5 gadgets, listen to the news, download as early as 4am & share articles on social media. Call 896 6000.