31 more to go
FDA okays 2 brands of COVID-19 home testing kits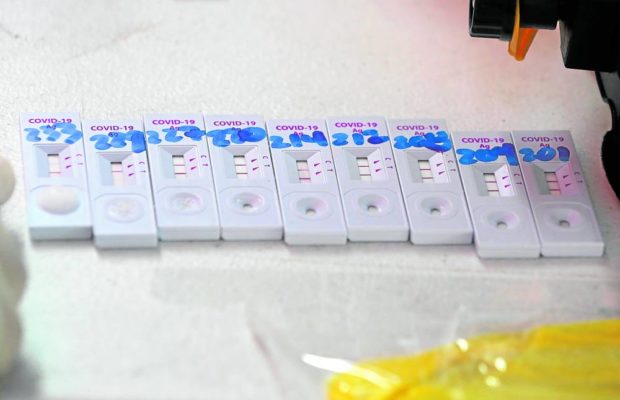 MANILA, Philippines — The Food and Drug Administration (FDA) on Tuesday said it has approved two brands of self-administered COVID-19 test kits.
According to Dr. Oscar Gutierrez, the agency's officer in charge, special certifications have been issued for the test kits Panbio COVID-19 Antigen Self-Test of Abbott Laboratories Philippines, an affiliate of the American multinational company of the same name, and the SARS-CoV-2 Antigen Rapid Test of Chinese company Labnovation Technologies Inc.
Gutierrez said the FDA is evaluating 31 more of those products.
In a meeting with President Duterte on Monday, he said "Let us remember that self-testing is just one of the measures to protect ourselves and others. It is a tool for us to know [if we are infected] and for us to avoid infecting others."
He also reminded the public to buy only FDA-approved test kits so they could be assured of the accuracy of their results.
These kits are available at FDA-licensed drugstores, he added.
Handling, instructions
Gutierrez noted that these test kits are sensitive to heat and fluctuating temperatures.
"The handling of the test kits is important. Good storage and good distribution practices must be observed," he said.
He further advised the public to check their expiration and to follow the instructions carefully.
Health Undersecretary Maria Rosario Vergeire had earlier recommended the guidance of health-care workers in the use of these kits.
Vulnerable segments
These tools are best applicable for those experiencing COVID-19 symptoms, said Dr. Rontgene Solante, chief of the Adult Infectious Diseases and Tropical Medicine Unit of the government-run San Lazaro Hospital.
He cautioned against using the test kits for screening employees to give them clearance to return to work.
The Department of Health (DOH) also discourages applying these kits for screening workers, saying these may not provide accurate results for that specific purpose.
Solante said the more vulnerable segments of the population should be given priority with those kits.
He said this is because those who test positive among them must get prompt medication to prevent their infection from becoming severe, which could lead to hospitalization.
The DOH said antigen tests are considered most effective during the acute phase of the disease, or within five days after the onset of COVID-19 symptoms. INQ
For more news about the novel coronavirus click here.
What you need to know about Coronavirus.
For more information on COVID-19, call the DOH Hotline: (02) 86517800 local 1149/1150.
The Inquirer Foundation supports our healthcare frontliners and is still accepting cash donations to be deposited at Banco de Oro (BDO) current account #007960018860 or donate through PayMaya using this link.
Subscribe to INQUIRER PLUS to get access to The Philippine Daily Inquirer & other 70+ titles, share up to 5 gadgets, listen to the news, download as early as 4am & share articles on social media. Call 896 6000.