Duterte asks DSWD to procure tarp sheets, coco lumber for families displaced by Odette
MANILA, Philippines — President Rodrigo Duterte instructed the Social Welfare and Development Secretary Rolando Joselito Bautista on Monday to supply tarpaulin sheets and lumber from uprooted coconut trees to displaced families so that they could make temporary shelter.
"Tarpaulin would protect people from the cold at night — instead of letting them sleep under plastic," Duterte said in Filipino during his taped weekly briefing with Cabinet officials that aired late on Monday night.
"Buy the tarpaulin sheets first, if it can be done within 48 hours — a tarpaulin sheet that covers a family of six in the areas where no repairs can yet be done," he added.
Duterte also ordered Bautista to make use of uprooted coconut trees in Siargao and turn them into lumber for temporary shelters for displaced families.
"All of them were toppled. So let's just get the materials there. The ones that were knocked down, that's what we're going to use," Duterte said.
"'Yung may ari ng mga lands that are planted with coconut, tapos natumba, ibigay mo na lang sa kapwa tao mo kasi 'yung lumber doon, sa Siargao, kung magtayo ng mini sawmill doon, madali na, diyan mismo eh, andiyan na 'yung kahoy so it should come out as a lumber," he went on.
"To those who own lands that are planted with coconut trees that have fallen down, just give them to your fellow Filipinos because in Siargao, if you build a mini sawmill there, it's easy, right there. The wood should come out as lumber," he added.
Duterte, while admitting that the material is not really advisable for lumber, pressed that it should still be used even just temporarily.
He advised painting the coco lumber with tar to slow down its deterioration until the repairs on the damaged houses could be carried out.
Meanwhile, Bautista said that public food packs, water, and housing materials had already been prepositioned. Their shipment, however, would depend on the availability of air and water transportation.
"But once available, we will push for loading food, water, and other shelter materials," he said.
Duterte then directed military officials to help the DSWD supervise the distribution of the tarpaulin and other housing materials.
"Maybe we can make a difference before the new year. Those who have received aid from the government, I hope you can use it however meager it is," he said.
"We do not expect you to buy the materials. But just hold steady and I will send you tarpaulin to shelter you from the elements of rain and cold to make the tent in the meantime that we're getting geared up," he added.
As of Dec. 27, the National Disaster Risk Reduction and Management Council (NDRRMC)  said that the death toll due to Typhoon Odette had reached 389.
READ: Death toll due to Typhoon Odette climbs to 389 — NDRRMC
The typhoon has also caused more than P28 million worth of damage to 506,404 houses, more than P16 billion worth of damage to 276 infrastructures, and P5 billion worth of damage to agriculture.
According to NDRRMC, a total of 334 cities and municipalities in Mimaropa, Western Visayas, Eastern Visayas, and Caraga had declared a state of calamity.
RELATED STORY
Volunteer groups of presidential aspirants launch 'Odette' relief efforts
ATM
Subscribe to our daily newsletter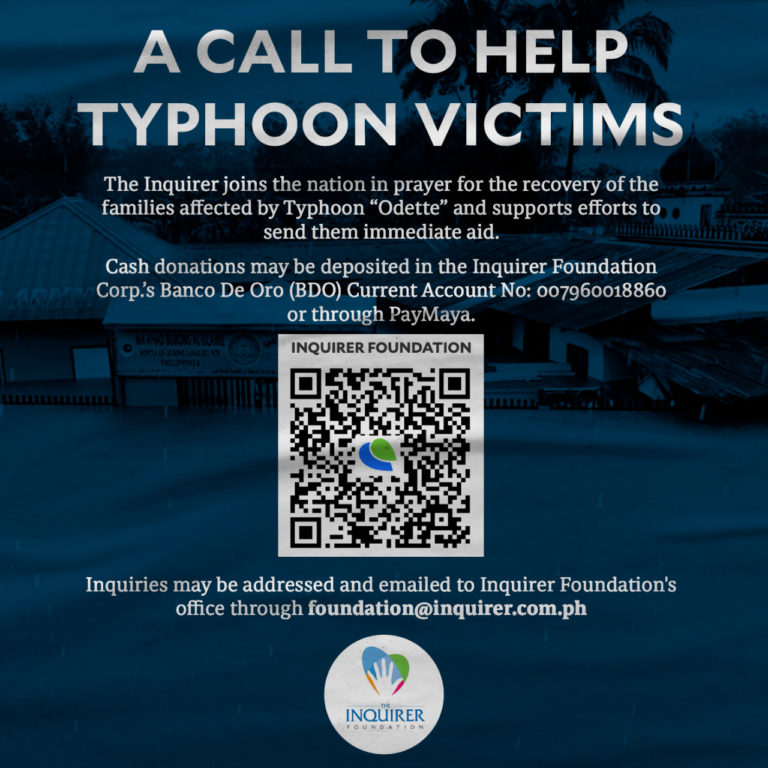 Subscribe to INQUIRER PLUS to get access to The Philippine Daily Inquirer & other 70+ titles, share up to 5 gadgets, listen to the news, download as early as 4am & share articles on social media. Call 896 6000.