State of calamity: There's money for aid, after all
President Duterte said emergency funds could be released by late this week for areas he had declared under a state of calamity following the devastation caused by Typhoon "Odette" (international name: Rai), which barreled through the Visayas and Mindanao last week.
Tina Rose Marie Canda, officer in charge of the Department of Budget and Management (DBM), on Wednesday said up to P10 billion may be available, but the disbursements would have to wait until the government had determined how much each area would need.
The President on Tuesday night signed Proclamation No. 1267 declaring a state of calamity in 31 provinces in six of the country's 17 regions—Mimaropa, Western Visayas, Central Visayas, Eastern Visayas, Northern Mindanao and Caraga—where the typhoon left a swath of destruction, demolishing houses and buildings, and cutting off power and communications.
Odette was the strongest and deadliest typhoon to hit the country this year, leaving nearly 400 dead and displacing almost half a million people.
The calamity proclamation came five days after the typhoon made landfall on the popular surfing and tourist island of Siargao on Dec. 16.
Mr. Duterte said he had to wait for the report of the National Disaster Risk Reduction and Management Council (NDRRMC) on the damage caused by Odette before he could declare a state of calamity, and he had asked the agency to hurry its release.
"When money is involved, people in government are afraid because there's a possibility that they can be sued," he explained.
The President earlier said that the government's coffers had already been "immensely depleted" due to the pandemic.
He said the calamity proclamation, which would be in effect for a year unless lifted sooner, would hasten rescue, relief and rehabilitation efforts by the national government and the private sector, as well as foreign governments and humanitarian groups.
It would also allow him to effectively control the prices of basic commodities in the affected areas and give the national and local governments a wider latitude to utilize funds to deal with the effects of the typhoon.
Responding to allegations of delays in the calamity proclamation, acting presidential spokesperson Karlo Nograles said the local governments affected by the typhoon could have earlier declared a state of calamity within their jurisdictions and used the quick response funds lodged in several agencies.
Nograles said Malacañang also was grateful for the offers of assistance from Australia, Canada, China, France, Japan, Qatar, United Kingdom, United States, the European Union and the United Nations.
Canda said that of the P10 billion that the President promised for the disaster-stricken areas, P2 billion would come from the calamity fund, another P2 billion from the President's contingency fund, and P6 billion from next year's appropriations.
P20-B disaster relief
Mr. Duterte is expected to sign the P5.024-trillion 2022 budget bill after Christmas, she said.
"We still don't know how it would be distributed, how much would be the distribution per region and local government unit if necessary," Canda said.
Lawmakers said Mr. Duterte potentially had much larger amounts of funds available at his disposal.
Sen. Sonny Angara, head of the Senate finance committee, said the President had P20 billion in calamity funds allotted for 2022. Much of that may have been depleted for pandemic spending, but Mr. Duterte would have another P20 billion for disaster relief right after he signs the 2022 budget.
The P7-billion contingent fund as a supplement in the 2022 budget and the savings of various agencies from their 2021 budgets, which could be realigned, could be used for calamity response, Angara said.
In addition to all that money, Senate Minority Leader Franklin Drilon said Malacañang could do a "cash sweep" of all released but unspent funds by all government agencies and government-owned and -controlled corporations (GOCCs), including billions of pesos that had been "parked" idly in their bank accounts, or held by the Procurement Service of the Department of Budget and Management and the Philippine International Trading Corp.
DPWH, NTF-Elcac budget
Drilon said the immediate target of a cash sweep to be spearheaded by the Department of Finance, would be the agencies with low disbursement rates, such as the Department of Public Works and Highways (DPWH) and the National Task Force to End Local Communist Armed Conflict (NTF-Elcac).
He said the NTF-Elcac was allocated P16.4 billion for 2,318 projects this year but was able to implement only 26 of them. The DPWH, on the other hand, was able to spend only 30 percent of its total allotment.
The unused funds of these two agencies could be used for Odette-related needs, Drilon said.
The opposition senator said the executive department could also postpone the implementation of projects to 2022, since the 2021 General Appropriations Act was extended to December 2022.
"As they say, if there is a will, there is a way," he said.
At the House of Representatives, Surigao del Sur Rep. Johnny Pimentel said the advance dividend payments from 57 GOCCs could help fund the rehabilitation of provinces ravaged by Odette.
"Malacañang can require covered GOCCs to pay in advance a portion of the cash dividends that they are meant to remit to the national treasury out of their net profits this year," he said.
Speaker Lord Allan Velasco's House Bill No. 9349 compelling GOCCs to declare up to 75 percent of their annual net profits as cash dividends to the treasury could "easily" provide the government with an extra P80 billion in recurring dividend income yearly, he said.
News handpicked by our editors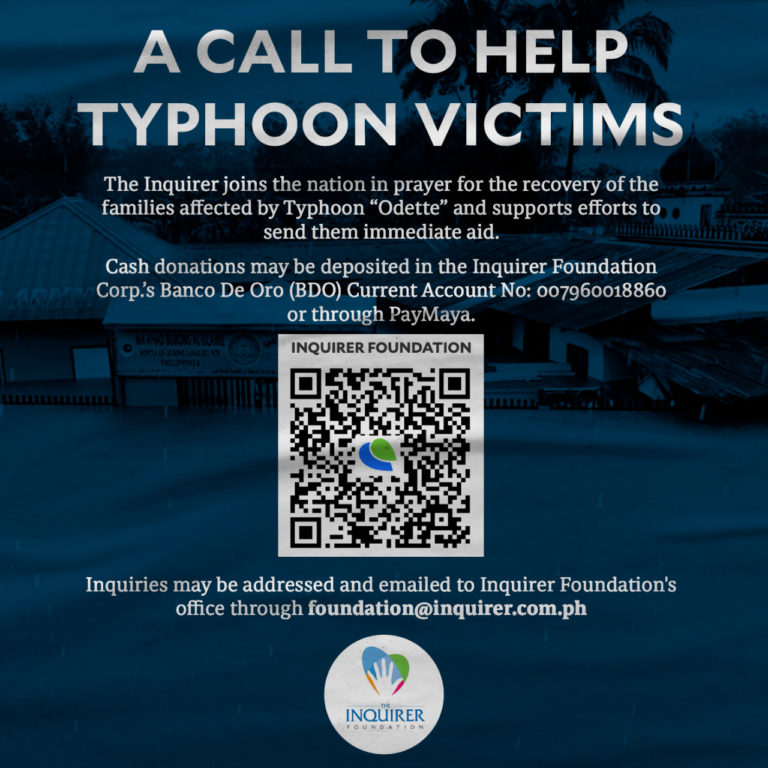 Subscribe to INQUIRER PLUS to get access to The Philippine Daily Inquirer & other 70+ titles, share up to 5 gadgets, listen to the news, download as early as 4am & share articles on social media. Call 896 6000.