EVEN WITH 'ODETTE' DATA STILL INCOMPLETE
Year's strongest typhoon dumped more rain than 'Yolanda'
The volume of rainfall brought by Typhoon "Odette" (international name: Rai) was more than what was dumped in 2013 by Supertyphoon "Yolanda" (Haiyan), which hit almost the same regions.
Odette, which battered regions in the Visayas and Mindanao and some parts of southern Luzon while making landfall nine times during its passage, brought accumulated rainfall of 272.1 millimeters (mm), according to the Philippine Atmospheric, Geophysical and Astronomical Services Administration (Pagasa).
This was the highest recorded on Odette's rainfall, Pagasa weather specialist Raymond Ordinario said on Wednesday at the weather bureau's 143rd Climate Forum.
He said data from Pagasa's Virac Synoptic Station were gathered when Odette's trough—with its center spotted in the West Philippine Sea—converged with the northeast monsoon ("amihan"), resulting in the dumping of heavier rains.
Virac in Catanduanes was not among the areas directly hit by Odette, Ordinario clarified.
But areas directly affected by Odette experienced high amounts of rain: Surigao City, 234 mm; Dauis, Bohol, 232.7 mm; Malaybalay, Bukidnon, 218.4 mm; and Butuan City, 207.6 mm.
'Truckloads of water'
"It's equivalent to truckloads of water," Ordinario said, adding that it was "not that simple" to provide "the exact qualitative description of [Odette's] rainfall."
Compared to the rainfall brought by Yolanda, Odette brought a lot more because the 2013 supertyphoon was classified as destructive due to its maximum sustained winds estimated at 300 kilometers per hour (kph), he said.
During Yolanda's onslaught, the biggest amount of rainfall was 223 mm in Calapan City, Oriental Mindoro, 154.2 mm in Surigao City, and 125.7 mm in Puerto Princesa City, Ordinario told the Inquirer in a phone interview.
But Odette's recorded rainfall volume is still expected to be higher than that gathered from Virac as Pagasa is still awaiting data from field stations in the Visayas, especially Cebu.
"We estimate that areas in the islands hit by Odette experienced more rains," Ordinario said. He said the Pagasa stations' connections in the Visayas had been downed by the typhoon.
While Odette brought even more rain than Yolanda, such rainfall had precedents in the last 10 years.
Speaking at the same 143rd Climate Forum, Analiza Solis, chief of Pagasa's Climate Information Monitoring and Prediction section, recalled that Typhoons "Pablo" (Bopha) in November 2012 and "Ruby" (Hagupit) in December 2014 were similar to Odette in terms of rainfall.
Pablo passed through Mindanao and Southern Visayas before making its way to Palawan, where it weakened into a tropical storm. Ruby's track included mostly areas in Luzon and in the Visayas.
Odette's rainfall volume is also comparable to that of Typhoon "Vinta" (Tembin) in December 2017, Solis said.
Odette, Yolanda, Pablo, Ruby and Vinta are just some of the strong weather disturbances to hit the Philippines in the latter part of every year, which, per Pagasa Climate Data section chief Rosalina de Guzman, make up a "slight trend" that suggests stronger storms in the future.
Citing a study of Pagasa and the Met Office Hadley Center, one of the United Kingdom's leading institutes for research on scientific issues surrounding climate change, De Guzman said the typhoons' "slight increase" in wind strength of more than 170 kph was due to warmer sea temperatures.
"In terms of projections, what are we seeing in the next 20 years? Our projection at the end of the 21st century, based on models we have, [is that] there would be more typhoons with high intensity," De Guzman said. "Stronger typhoons are expected in the future."
But for Solis, the trend of consistently strong typhoons entering the country in November and December may also be attributed to different weather systems such as intertropical convergence zones and the cold-weather phenomenon La Niña.
La Niña "increases the likelihood of more rain-bearing [weather] systems such as tropical cyclones…so we can attribute that trend … to [it]," Solis said. "It will always happen because it is part of natural climate variabilities such as El Niño and La Niña."
Solis said it could also be "indirectly attributed" to climate change although the connection was still unclear.
All predictions exceeded
Before Odette underwent a process of rapid intensification, forecasters warned of a storm that could bring "considerable damage," with winds of up to 165 kph.
"But the situation evolved very fast," Nikos Peñaranda, who studies thunderstorms at Pagasa, said on Tuesday. "Our models weren't able to predict the way the storm intensified, and it exceeded all our predictions."
A lack of real-time data and case studies of similar storms in the region made it difficult for forecasters to predict just how much Odette would intensify, said Peñaranda.
Clare Nullis, media officer specializing in climate change at the World Meteorological Organization, said "the challenge in forecasting rapidly intensifying events is just that the speed with which this occurs, often in a matter of hours, leaves less time for disaster risk reduction mobilization and evacuations." With a report from Reuters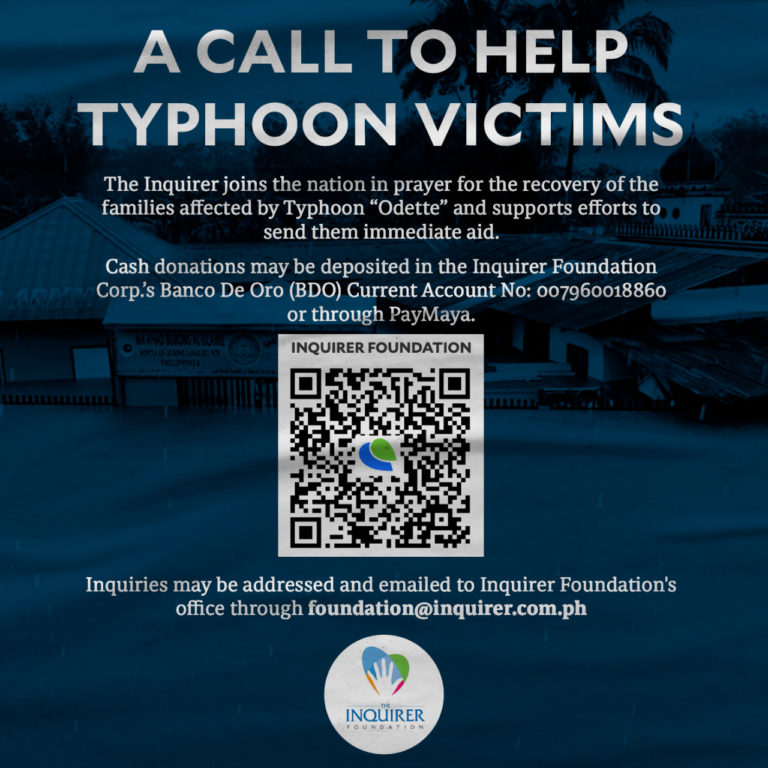 Subscribe to INQUIRER PLUS to get access to The Philippine Daily Inquirer & other 70+ titles, share up to 5 gadgets, listen to the news, download as early as 4am & share articles on social media. Call 896 6000.