DOH: More than 10K new cases due to Delta, laxity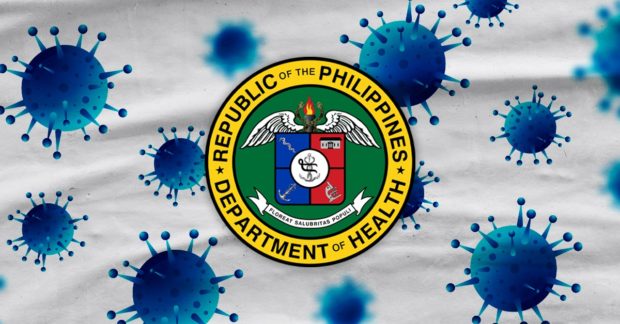 The Department of Health (DOH) on Friday logged 10,623 new COVID-19 infections, the highest since it reported 11,101 cases on April 17, and said the spike could be attributed to a number of factors, including the public's failure to follow health protocols and the spread of the more transmissible Delta variant of the coronavirus.
It also reported that all the 16 cities and the lone municipality comprising the National Capital Region (NCR), which fell under enhanced community quarantine (ECQ) on Thursday, had at least one case each of the Delta variant.
The DOH said eight areas in Metro Manila were placed under alert level 4 because of a high number of COVID-19 cases and high hospital occupancy rates.
Health Undersecretary Maria Rosario Vergeire said these included the cities of Las Piñas, Muntinlupa, Quezon City, Taguig, Malabon, Makati and San Juan, and the municipality of Pateros.
12 'surge' days
"We are seeing that the rise in the COVID-19 cases is due to a combination of various factors—the failure to observe the minimum public health standards, the nonimplementation of the prevent-detect-isolate/quarantine-reintegrate strategies, the free movement of the people and the presence of the different variants of concern, especially the Delta variant," the DOH said in a statement.
"We continue to remind our citizens to stay vigilant and always follow our safety protocols and get vaccinated as soon as possible," it said.
There were 12 days during the surge of almost daily new cases numbering more than 10,000—on March 29, April 2 to 4, April 9 to 12 and April 15 to 18.
In its daily bulletin, the DOH said on Friday that majority of the new cases, or 94 percent, were mild, while 1.2 percent were asymptomatic, 1 percent critical, 1.8 percent severe and 1.18 percent moderate.
It said 3,127 had recovered, increasing the number of survivors to 1,535,375. The death toll rose by 247 to 28,673.
The deaths and recoveries left 74,297 active cases, the highest number since May 2.
The DOH said five laboratories failed to submit their data on time. Nine previously classified as recoveries were verified to still be active cases and 150 recoveries have been reclassified as deaths after validation.
No community transmission
The DOH also said the University of the Philippines-Philippine Genome Center detected an additional 119 Delta variant cases in the country, bringing the national total to 450 since the first case was recorded in May this year.
At an online press briefing, Vergeire reported that there were 12 Delta variant patients who were still sick, four of them in Metro Manila. She said nine out of the country's 17 regions have a confirmed Delta variant case.
The DOH said 93 of the most recent cases, or 78 percent, were local and 20 were returning overseas Filipinos. It said that it was still trying to determine the travel history of the other six cases.
Of the local cases, 18 are from Metro Manila, 14 are from Calabarzon (Cavite, Laguna, Batangas, Rizal and Quezon), 18 from Central Luzon, 31 from Western Visayas, eight from Northern Mindanao and one each from Central Visayas, Eastern Samar, Zamboanga Peninsula and the Cordillera Administrative Region.
The DOH said, 118 had recovered and one "has an outcome that is being verified."
Despite the rising number of local cases, the DOH has not yet declared community transmission of the Delta variant.
Based on the World Health Organization's guidelines, community transmission is declared when there is a large number of cases not linkable to transmission chains, an observed increase in cases detected through laboratory surveillance and multiple unrelated clusters in several areas of the country.
As a precaution, the health department has been telling the public to act as if there is already community transmission of the Delta variant.
Alert level 4
Vergeire said areas under alert level 4, which is the most serious of all in the new DOH alert system, are those whose "risk classification" were moderate to critical and whose utilization rate of either their total COVID-19 beds or their intensive care unit beds was more than 70 percent.
Areas under alert level 1 are minimal to low risk, have a negative two-week growth rate of cases and less than 50 percent HCUR (health-care utilization rate). They also do not have any Delta variant cases.
Those under alert level 2 are minimal to low risk, have a negative two-week growth rate and less than 50 percent HCUR, but have at least one confirmed Delta variant case.
Vergeire said areas that were minimal to low risk with a negative two-week growth rate, but with more than 50 percent intensive care utilization rate (ICUR), or areas that are minimal to low risk with a positive two-week growth rate, would also be considered level 2.
Areas under alert level 3 have moderate to critical risk and have an HCUR or ICUR of 50 percent to 70 percent.
Aside from the eight areas in Metro Manila, those under alert level 4 are the provinces of Apayao, Benguet, Ilocos Norte, Cagayan, Nieva Vizcaya, Quirino, Bataan, Pampanga, Tarlac, Batangas, Cavite, Laguna, Quezon, Bukidnon, Iloilo, Cebu and Camiguin.
The cities of Baguio, Angeles, Olongapo, Lucena, Iloilo, Cebu, Lapu-Lapu, Mandaue, Tacloban, Cagayan de Oro, Davao and General Santos are also under alert level 4.
The province of Bulacan reported three more Delta variant cases on Friday.
ECQ for Bulacan?
Dr. Hjordis Marushka Celis, Bulacan COVID-19 task force vice chair, said the three were not among the 23 close contacts of the first three cases of the province.
Gov. Daniel Fernando said he would recommend to the national interagency task force that Bulacan be placed under ECQ or modified enhanced community quarantine due to a surge if the COVID-19 cases in the province "would continue to shoot up."
There would be a need for tighter control of movement and activities of the public to prevent the further spread of the virus, particularly the more contagious Delta variant, he said.
Bulacan now has 2,291 active COVID-19 cases compared to 600 a week ago.
Also on Friday, Olongapo Mayor Rolen Paulino Jr. confirmed two cases of the Delta variant in the city.
Both have recovered but will remain quarantined pending the results of their swab test, he said in a statement. —WITH REPORTS FROM CARMELA REYES-ESTROPE AND JOANNA ROSE AGLIBOT
Subscribe to INQUIRER PLUS to get access to The Philippine Daily Inquirer & other 70+ titles, share up to 5 gadgets, listen to the news, download as early as 4am & share articles on social media. Call 896 6000.