LOOK: Religious groups, Chinese Filipino community donate aid to Ulysses-hit Rizal residents
MANILA, Philippines — Religious groups and members of the Chinese-Filipino community on Saturday distributed relief packs to families in Rodriguez, Rizal, who were greatly affected by rains brought by Typhoon Ulysses.
Around 300 families from Rodriguez received aid, such as water, rice, biscuits and canned goods distributed by volunteers of the In Christ Alone Fellowship, Apostolic Riders of Christ, The Isle of Man Apostolic Church of Great Britain under Pastor Frederico Mateo and the Chinese-Filipino group BayaNihao.
The relief goods were distributed to five different churches in Rodriguez. These relief goods, in turn, will be given to affected families.
Pentecostal pastor Samuel Patagnan Jr. told INQUIRER.net that the onslaught of Ulysses was something that residents did not experience in previous years.
"Sabihin natin na yung mga bagay na imposibleng mangyari, nangyari sa ngayon, yung baha naman dito na nangyari nung nakaraan ay di pa  naranasan ng mga nakaraang taon eh," Patagnan said.
(Let's just say some things that did not happen before, happened now.  The flood that happened here did not occur in previous years.)
"May mga bahagi dito na di inabot ng [Tropical Storm] Ondoy pero nasalanta ng Ulysses," he added.
(There are some areas here that were not flooded during Ondoy but were submerged during Ulysses.)
BayaNihao volunteer Austin Ong, meanwhile, said that his group has also been giving aid to residents in Batangas and Quezon province who were affected by Super Typhoon Rolly, as well as those greatly affected by the COVID-19 pandemic.
It was on Nov. 12 when Ulysses brought heavy rains and massive flooding over Southern and Central Luzon, including Metro Manila.Because of the series of typhoons that passed through Luzon, this prompted to place the entire Luzon island under a state of calamity.
CFC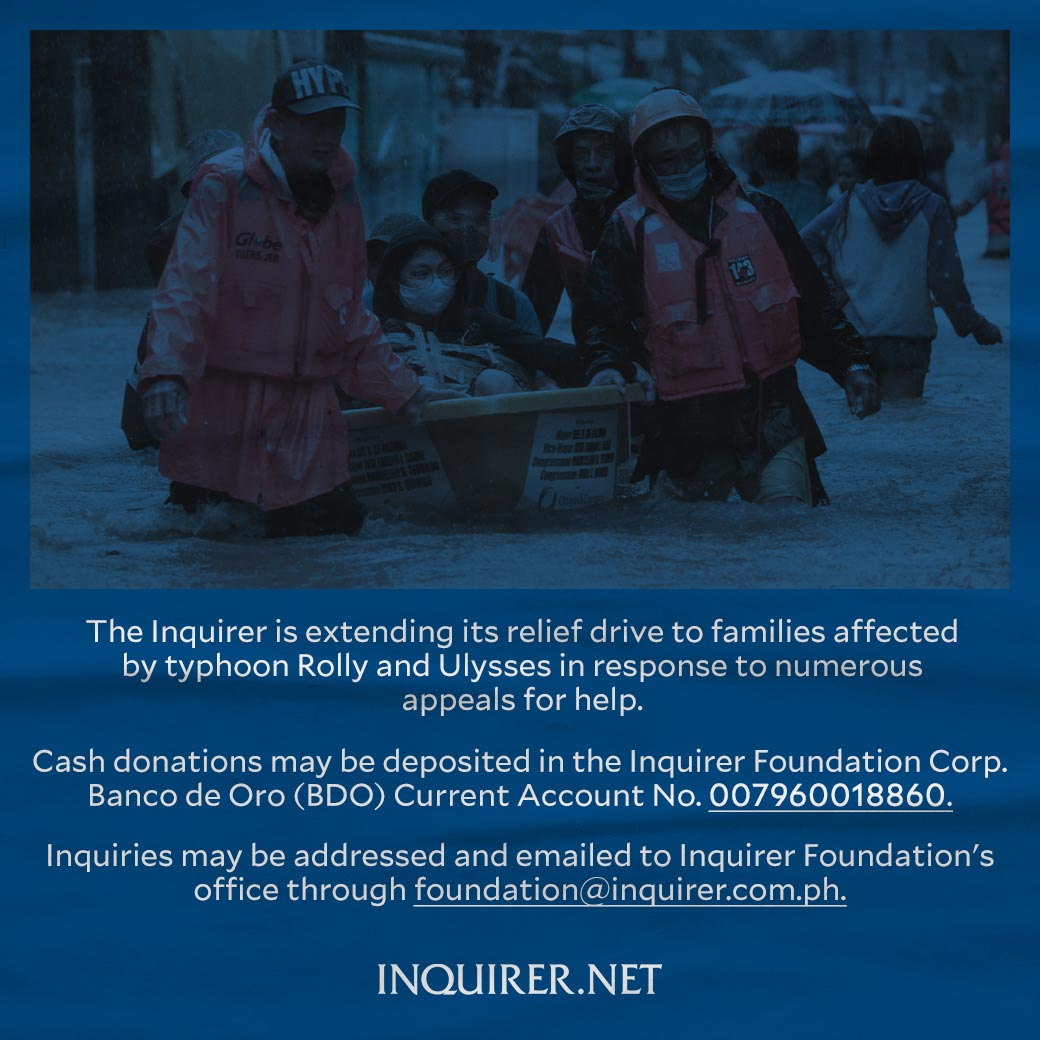 Subscribe to INQUIRER PLUS to get access to The Philippine Daily Inquirer & other 70+ titles, share up to 5 gadgets, listen to the news, download as early as 4am & share articles on social media. Call 896 6000.