Disaster plan for pets, animals must also be made by gov't, appeals animal welfare group
MANILA, Philippines — An animal welfare group has called on the Philippine government and pet owners on Friday to come up with an emergency disaster plan for animals, as dogs and other pets were either found dead, abandoned or stranded during the onslaught of Typhoon Ulysses over the weekend.
Pawssion Project, a non-profit organization dedicated to the rescue and rehabilitation of distressed dogs, sought for the help of the public to tap local government units in creating a plan for saving animals in times of calamities and disasters.
"Our team is dedicated to speaking up for the voiceless. And it absolutely breaks our hearts knowing that we, as a country, are still way behind with thinking of our furry companions when emergencies and calamities arise," the group stated on its Instagram page on Nov. 13.
Pawssion Project also said it stood firm in its belief that "all lives matter," urging people to "tap people in power to create a disaster plan for the voiceless."
Tingnan ang post na ito sa Instagram
"We'll do much better as a nation if we start to think more about others, including those who cannot speak for themselves," it added.
On the other hand, flood-hit San Mateo pound in Rizal, one of the country's dog pounds with a no killing policy and which was also ravaged by the typhoon, is now calling for help as dog foods and other supplies for impounded animals are now lacking.
"San Mateo Pound lost almost everything because of #UlyssesPH. They are one of the very few dog pounds in our country with a #NoKillPolicy — meaning they do not euthanize their impounded animals," Animal Kingdom Foundation, another pet-lover group, said on Facebook.
Earlier, the Philippine Animal Welfare Society reminded pet owners to unchain their pets or unlock their cages if they cannot take them to evacuation centers during calamities to at least give them the opportunity to survive. JB
RELATED STORIES:
Carla Abellana calls for help for San Mateo dog pound destroyed by Typhoon Ulysses
Heart Evangelista recalls 'traumatizing' childhood event that inspired her to rescue dogs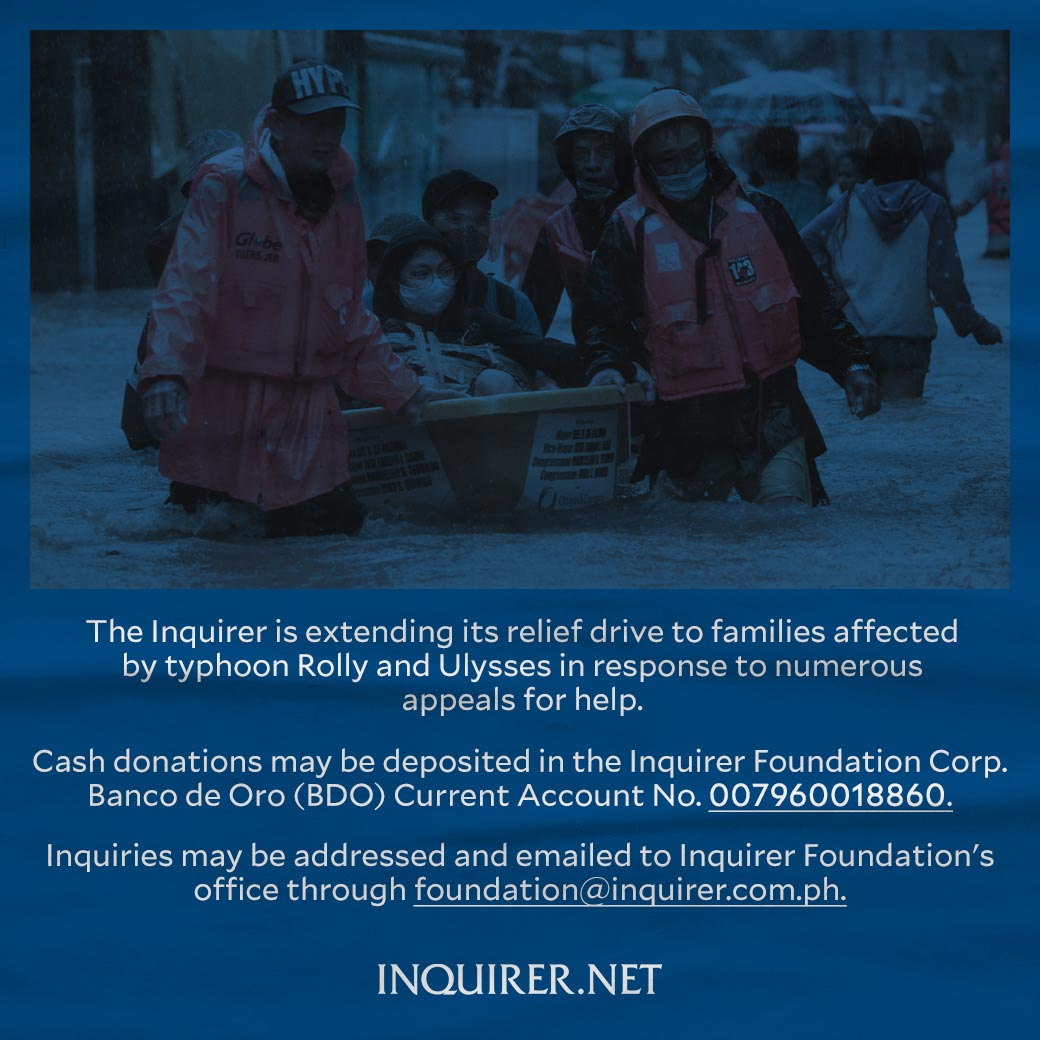 Subscribe to INQUIRER PLUS to get access to The Philippine Daily Inquirer & other 70+ titles, share up to 5 gadgets, listen to the news, download as early as 4am & share articles on social media. Call 896 6000.