Makabayan bloc gathers donations; provides hot meals for typhoon victims
MANILA, Philippines — A common recurring theme among people who criticize left-leaning activists is that they have not done anything for the country, especially during times of calamities — with memes popping up insisting that progressive groups cannot be relied upon.
But lawmakers and party-list organizations seek to erase such stigmas, as they sustain donation drives for people in Metro Manila and nearby provinces who were affected by Typhoon Ulysses.
According to Bayan Muna, they and their private partners like the People for Accountable Governance and Sustainable Action (Pagasa), Bayang Matulungin, Dambana continued to distribute hot meals and other items to people in evacuation centers in Quezon City, Marikina, and Rodriguez, Rizal.
"Groups like Pagasa, Dambana, Agham, Yacap, Agham-Youth and individuals like June Taguiwalo combined their resources with that of Bayang Matulungin-Bayan Muna, Gabriela Women's Party, ACT Teachers partylist, Kabataan partylist and Anakpawis partylist to extend their assistance and support to the victims of Ulysses," Makabayan said in a joint statement.
"They have already conducted numerous community kitchens, feeding programs and relief operations in the most affected areas but they still more help and we hope that more will extend their hand and that the national government would step up and help those in need," the groups added.
Other members of the community helped too, as teacher-members of the ACT party-list also helped prepare meals for Marikina evacuees.  Gabriela party-list and volunteers on the other hand gave meals to families seeking shelter at the Christ the King Church in Quezon City.
This the bloc's second day of providing aid to people badly affected by Ulysses, which brought overnight rains that resulted into flooding at Metro Manila and Rizal's low-lying areas.
Ulysses' rains raised water levels at the Marikina river to 22 meters — even higher than what was felt during Typhoon Ondoy in 2009.  At its peak, Ulysses packed maximum sustained winds of 155 kilometers per hour (kph) and gustiness of up to 255 kph.
JPV
Subscribe to our daily newsletter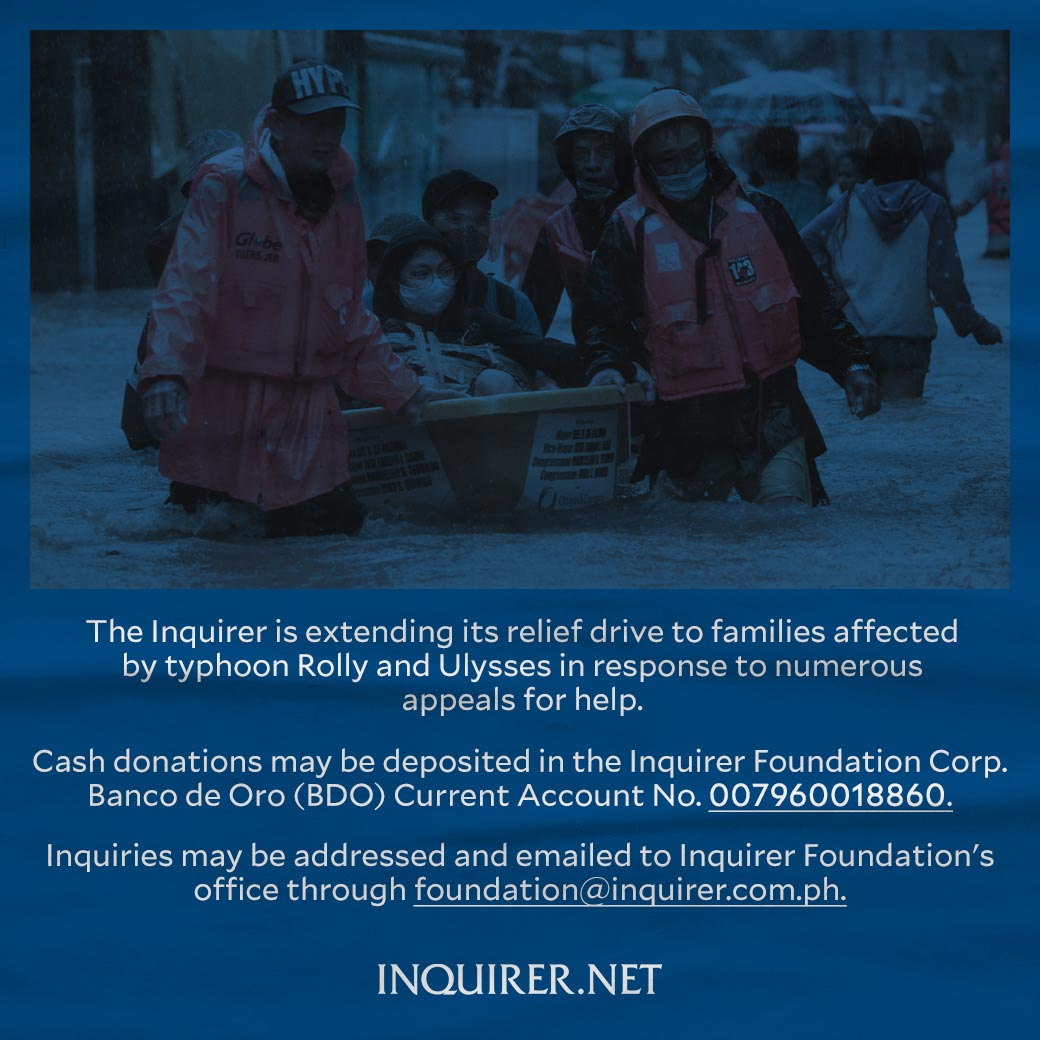 Subscribe to INQUIRER PLUS to get access to The Philippine Daily Inquirer & other 70+ titles, share up to 5 gadgets, listen to the news, download as early as 4am & share articles on social media. Call 896 6000.