Groups, Makabayan bloc, provide aid to typhoon victims in Rizal, Marikina
MANILA, Philippines — Civil society organizations and party-list groups from the Makabayan bloc have started their own relief operations for residents of Metro Manila and nearby provinces affected by Typhoon Ulysses.
Photos from the different groups showed evacuees and residents where flooding occurred being handed relief items like hot meals and other items, hours after Ulysses brought strong winds and rains that caused flooding in various Metro Manila cities on Thursday
Bayan Muna and the People for Accountable Governance and Sustainable Action (Pagasa) handed at least three batches of hot meals to evacuation centers in Marikina's Barangay Malanday and Quezon City's Barangay Tatalon.
Gabriela Women's party-list also delivered food packs in Malanday, while Bayan Muna and Pagasa brought another batch of hot meals for Barangay San Jose of Rodriguez, Rizal.
Kabataan party-list on the other hand led the repacking of relief goods that would be distributed to evacuation centers.
Marikina and low-lying portions of Rizal were among the most affected areas after Ulysses moved close to Metro Manila, as rainfall and water from the higher parts of the province trickled down to Marikina River.
Earlier, Marikina River's water level went way over 21.5 meters, which means that it had higher water levels compared to when Typhoon Ondoy hit the city.
Meanwhile, Pagasa — not to be confused with the meteorology bureau — is still looking for volunteers and donations of hot meals as many evacuees are expected to spend some time in evacuation centers, to wait for flood waters to recede and to clean their homes.
"If what you'd like is to cook food for evacuees, we can pay for delivery to our HQ in Quezon City, and will bring what you send to evacuation centers in need," Pagasa said in its Facebook post.
These would be brought to the above-mentioned evacuation centers, the group assured.
Floodwaters higher than two-story buildings were observed in some areas in Marikina and Rizal, as Ulysses brought strong winds and heavy rains overnight.
After making landfall over Quezon province thrice, Ulysses moved toward Central Luzon with its eyewall hitting Metro Manila and nearby areas.  At its peak, Ulysses packed maximum sustained winds of 155 kilometers per hour (kph) and gustiness of up to 255 kph.
JPV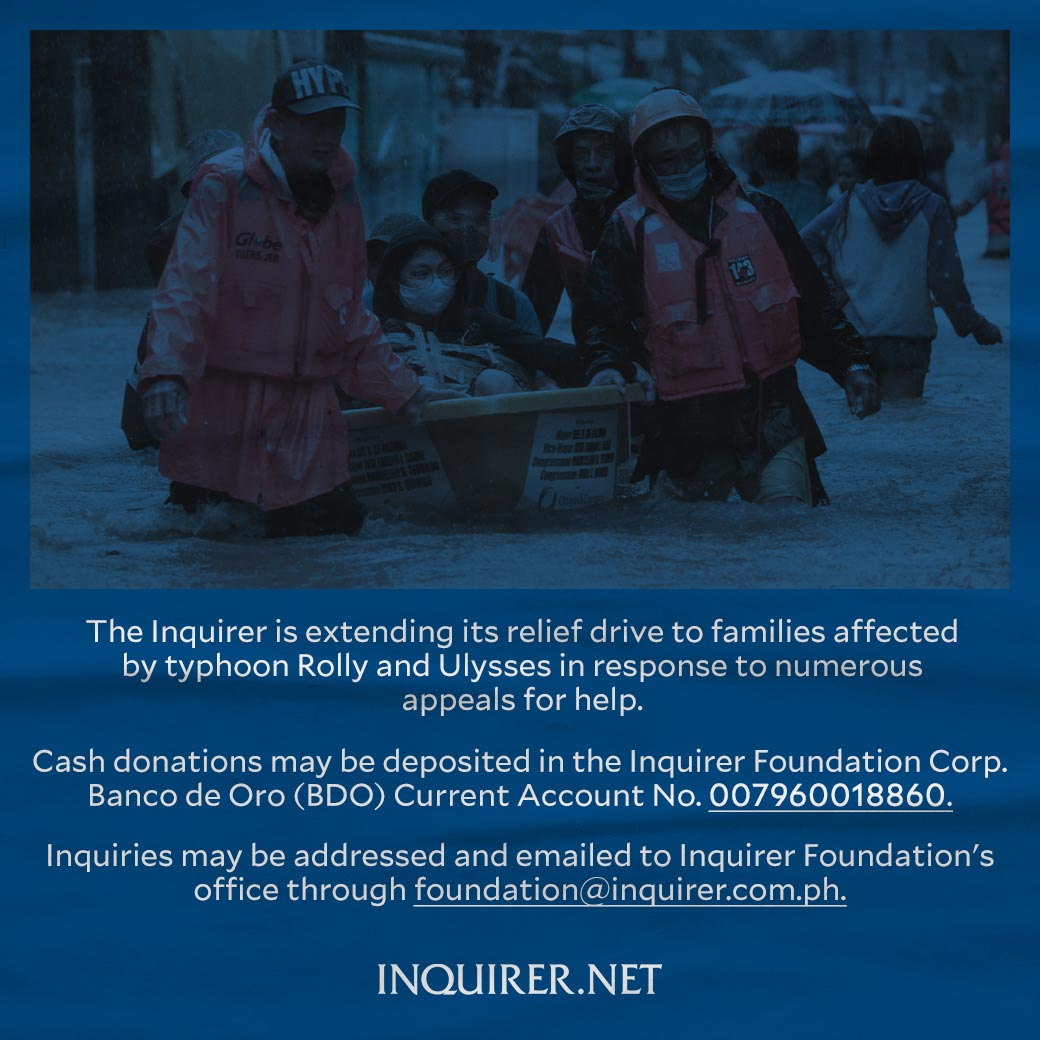 Subscribe to INQUIRER PLUS to get access to The Philippine Daily Inquirer & other 70+ titles, share up to 5 gadgets, listen to the news, download as early as 4am & share articles on social media. Call 896 6000.