Damage wrought by Rolly on agriculture, infrastructure hits P6 billion
LEGAZPI CITY, Albay, Philippines — Typhoon Rolly, which killed at least 20 people in the Bicol Region, also damaged agricultural crops and infrastructure worth P6 billion.
The Department of Agriculture in Bicol said P1.1 billion worth of crops were destroyed by Rolly, affecting 17,059 hectares, with 53,383 metric tons of produce.
The Department of Public Works and Highways said P4.6 billion worth of infrastructure were destroyed.
Of the fatalities, 14 deaths were from Albay, while six were from Catanduanes province, according to a report by the Office of Civil Defense (OCD).
The reported deaths involved drowning, lahar avalanche, hypothermia and falling debris.
The OCD report said flooding was reported in 10 towns in Albay and 29 towns in Camarines Sur while lahar flows were reported in Guinobatan, Camalig, Santo Domingo and Tabaco City, all in Albay.
Damaged power lines
Reports from the Provincial Disaster Risk Reduction and Management Office said that of the 79,338 houses affected, 58,415 were partially damaged while 20,923 were totally destroyed.
With the severe damage in the primary power lines and facilities in Albay province, the restoration of power could take up to two months, Albay Power and Energy Corp. said.
Meanwhile, Albay Public Safety and Emergency Management Office chief Cedric Daep said typhoon victims in Albay primarily needed donations of food and materials to repair their houses. He also said hygiene kits were needed in the evacuation centers.
Some P6.6 million worth of assistance from the national and local governments and nongovernmental organizations were distributed to victims of Rolly, according to the Department of Social Welfare and Development (DSWD).
The DSWD's Disaster Response Management Bureau estimated on Tuesday morning that 160,000 families or 645,000 people were affected by the typhoon across Bicol, Calabarzon, Mimaropa, Central Luzon, Eastern Visayas regions and Metro Manila.
More than 70,500 families or 269,000 people remain in 2,671 evacuation centers. There are more than 7,643 families affected by the typhoon but are outside evacuation centers.
Aside from food and shelter, the DSWD said it was also providing psychological first aid to affected families to reduce stress caused by the typhoon.
The Philippine Air Force (PAF) flew in on Tuesday with communications equipment, a power generator and relief goods to Albay and Catanduanes.
According to Lt. Col. Aristides Galang Jr., the PAF public affairs office chief, the Air Force's C-130 and C-295 aircraft were used to transport urgently needed equipment and goods to Legazpi City and Virac, Catanduanes.
Galang said the C-130 aircraft was loaded with 18,000 pounds of cargo, which included a communications van, a generator set, folding beds, tents, four boxes of personal protective equipment and 150 boxes of bottled water from Asia Brewery.
The PAF's C-295 plane flew in 235 boxes of food packs from the DSWD at Virac, Catanduanes.
Price freeze sought
Meanwhile, a minority senator said on Tuesday that the government must immediately impose a price freeze on basic goods in areas devastated by Rolly, including badly hit Catanduanes.
"A price freeze must be declared in the devastated areas. We also urge the local governments to consider declaring a state of calamity so that they are able to utilize additional funds, as well as to guard against inevitable price hikes due to higher demands for basic goods," Sen. Francis Pangilinan said in a statement.
Rolly also damaged a total of 226 schools. The Department of Education said school buildings sustained P489.5 million worth of damage.
At a public briefing, Education Secretary Leonor Briones said they would be relying on funds from the National Disaster Risk Reduction and Management Council for the repair of the damaged schools. —With reports from Mar S. Arguelles, ‍ Ma. April Mier-Manjare, Nikka G. Valenzuela, Jeannette I. Andrade, DJ Yap and Meg Adonis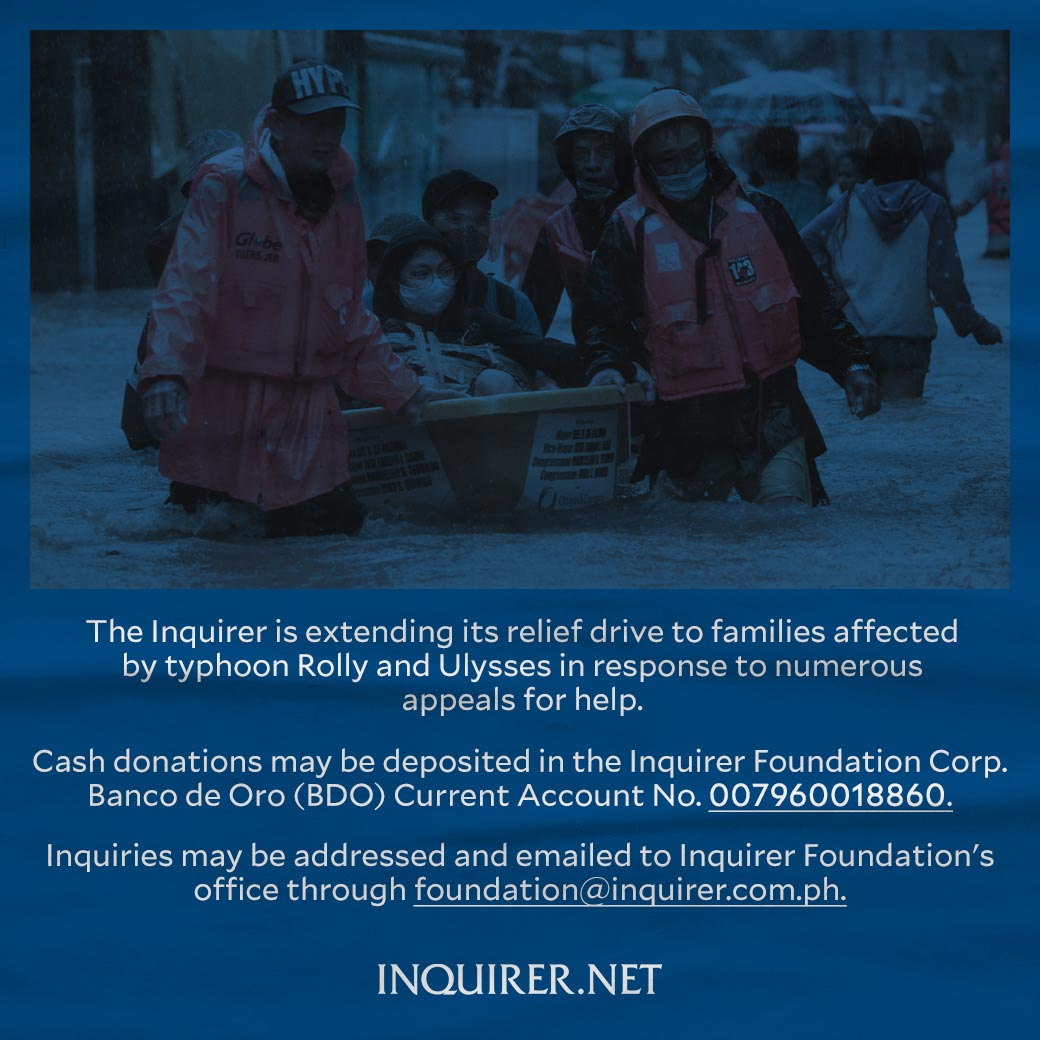 Subscribe to INQUIRER PLUS to get access to The Philippine Daily Inquirer & other 70+ titles, share up to 5 gadgets, listen to the news, download as early as 4am & share articles on social media. Call 896 6000.