LIST: Canceled flights on Nov. 1 due to Typhoon Rolly
MANILA, Philippines — The Manila International Airport Authority (MIAA) announced suspension of flights on All Saints' Day, November 1 as Typhoon Rolly is expected to hit the Philippines' landmass on Sunday.
In a statement on Sunday, MIAA disclosed that these 21 flights will be canceled on Sunday:
NAIA (Ninoy Aquino International Airport) Terminal 1
(PR) Philippine Airlines
PR 102 Manila-Los Angeles
PR 110 Manila-Guam
PR 300 Manila-Hong Kong
NAIA Terminal 2
(PR) Philippine Airlines
International Flights
PR 103 Los Angeles-Manila
PR 301 Hong Kong-Manila
PR 411 Osaka Kansai-Manila
PR 421 Tokyo Haneda-Manila
PR 425 Fukuoka-Manila
PR 427 Tokyo Narita-Manila
PR 502 Singapore-Manila
PR 5655 Riyadh-Manila
(PR) Philippine Airlines
Domestic Flights
PR 1859/1860 Manila-Cebu-Manila
PR 2041/2042 Manila-Caticlan-Manila
PR 2132 Bacolod-Manila
PR 2522 Cagayan de Oro-Manila
PR 2784 Pagadian-Manila
PR 2935 Butuan-Manila
PR 2985/2986 Manila-Tacloban-Manila
PR 2970 Kalibo-Manila
PR 2997/2998 Manila-Zamboanga-Manila
NAIA Terminal 3
(EY) Etihad Airways
EY 424/423 Abu Dhabi-Manila-Abu Dhabi
(5J) Cebu Pacific
5J 787/788 Manila-Butuan-Manila
5J 391/392 Manila-Cagayan de Oro-Manila
5J 562 Cebu-Manila
5J 704 Dipolog-Manila
5J 772 Pagadian-Manila
5J 653/654 Manila-Tacloban-Manila
(DG) CebGo
DG 6242 Caticlan-Manila
DG 6024/6025 Manila-Cauayan-Manila
Total number of cancelled flights: 38
Canceled flights for November 2, 2020 (Monday) due to bad weather as of 2000H – 10/31/2020
NAIA Terminal 1
(PR) Philippine Airlines
PR 422 Manila – Tokyo Haneda
PR 438 Manila – Nagoya
PR 507 Manila – Singapore
PR 525 Manila – Kuala Lumpur
NAIA Terminal 2
(PR) Philippine Airlines
International Flights
PR 111 Guam – Manila
PR 421 Tokyo Haneda – Manila
PR 437 Nagoya – Manila
PR 508 Singapore – Manila
PR 526 Kuala Lumpur – Manila
(PR) Philippine Airlines
Domestic Flights
PR 453/454 Manila-General Santos-Manila
PR 1813/1814 Manila-Davao-Manila
PR 1845/1846 Manila-Cebu-Manila
PR 2141 Manila-Iloilo
PR 2521 Manila-Cagayan de Oro
PR 2557/2558 Manila-Dipolog-Manila
PR 2934 Manila-Butuan
PR 2985 Manila-Cagayan de Oro
State weather bureau earlier said Rolly will likely hit the Philippines landmass by early morning of Sunday then it will also cross over Camarines provinces and Quezon province on Sunday morning.
"Violent winds and intense rainfall associated with the inner rainband-eyewall region will be experienced over Catanduanes, Camarines Provinces tomorrow early morning through afternoon and over Quezon tomorrow afternoon through evening," weathermen said in a statement this Saturday.
CFC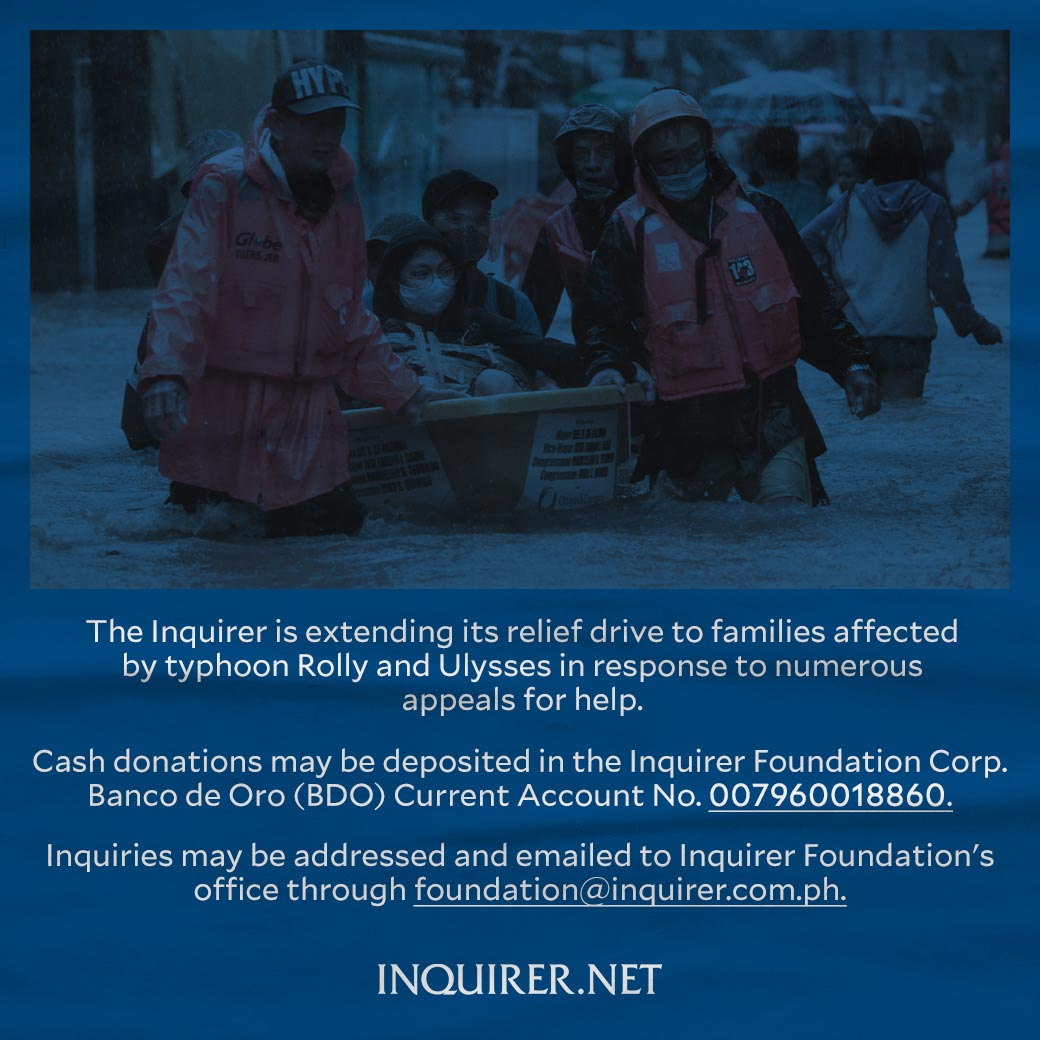 Subscribe to INQUIRER PLUS to get access to The Philippine Daily Inquirer & other 70+ titles, share up to 5 gadgets, listen to the news, download as early as 4am & share articles on social media. Call 896 6000.