PNP orders probe on shooting of ex-soldier at QC checkpoint
MANILA, Philippines — The Philippine National Police (PNP) has ordered an investigation on the shooting last Tuesday of a retired soldier by a  police officer near a quarantine checkpoint in Barangay Pasong Putik in Quezon City.
In an interview on ANC's "Matters of Fact", Lt. Gen. Guillermo Eleazar, commander of the joint task force COVID-19 shield, said that PNP chief Gen. Archie Gamboa ordered the Quezon City Police  District (QCPD) to look into the incident.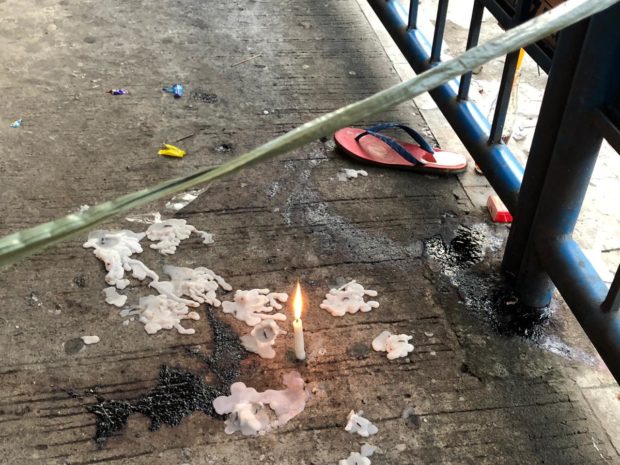 "I've also seen that video, and we don't have to pre-empt the investigation being conducted now. Our police chief PNP PGen. Archie Gamboa has given [the] directive to the  QCPD to conduct investigation," Eleazar said.
"And both the Criminal Investigation and Detection Unit, as well as the Internal Affairs Service of the QCPD are now doing initiating investigation," Eleazar added.
Former Army Cpl. Winston Ragos was shot dead by Police Master Sergeant Daniel Florendo of the Fairview Police Station during an alleged confrontation near a quarantine control point in  Barangay Pasong Putik, Quezon City.
The incident, which occurred about 100 meters away from Fairview Terraces, was caught on video.
Checkpoint conflict: Alleged retired soldier shot dead by cop in Quezon City
The QCPD report stated that  Ragos approached and started screaming at Florendo and his four police trainees.
The former soldier was then ordered to return home but allegedly refused and identified himself as a was a former member of the Armed Forces of the Philippines.
Police allegedly spotted that the ex-soldier in the act of pulling something out of his sling bag.
Ragos, according to the police report, pulled out his gun, which prompted Florendo to shoot him.
Eleazar said that what Florendo did was "self-defense" after he saw Ragos pulling out his gun.
"As you can see in the [standard operating procedure], we can always use necessary and residual force that would be sufficient to overcome the resistance coming from the offender in order to subdue the clear and imminent danger posed by him. In just analysis, or kung titignan natin ito (or if we look at this carefully), this is what we can say self-defense," Eleazar said.
The joint task force COVID-19 shield commander added that Ragos was "mentally challenged," saying that the former soldier was deployed during the five-month-long Marawi siege in 2017.
"Another revelation is that accordingly, the suspect suffered from [a] mental challenge from the Marawi experience. So hindi man alam ng policeman natin ito (So our policemen may not know this)," Eleazar explained.
"And even [if] kahit alam siya, just theoretically speaking, maaring nangyari ito kung napatay yung police natin. Maari yung pulis natin na walang baril is mapatay pa rin," he added.
(And even if police knew about it, just theoretically speaking, something may still have happened if one of our police died. Maybe one of the police who did not have a gun may have died too.)
GSG
Subscribe to INQUIRER PLUS to get access to The Philippine Daily Inquirer & other 70+ titles, share up to 5 gadgets, listen to the news, download as early as 4am & share articles on social media. Call 896 6000.