10% of Filipinos fulfilled 2019 New Year's resolution — SWS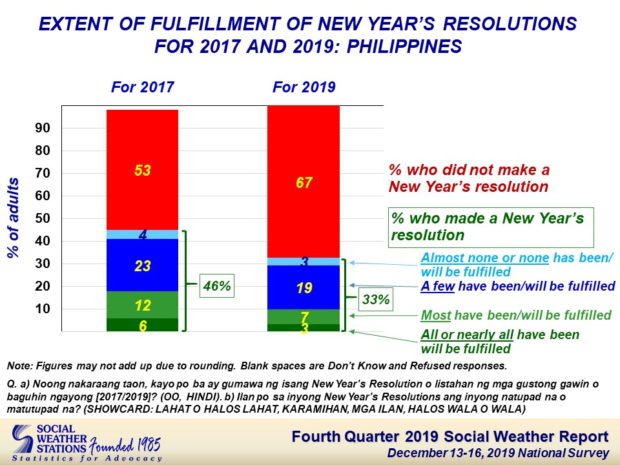 MANILA, Philippines — Only 10 percent of Filipinos said their promises for the year 2019 were fulfilled, recent results of Social Weather Stations (SWS) showed Friday.
In its survey conducted from Dec. 13 to Dec. 16, the pollster said of the 33 percent, 3 percent said nearly all of their 2019 resolutions were fulfilled while 7 percent said most of their New Year's resolutions in 2019 were fulfilled.
Nineteen said only few of their resolutions were fulfilled while 3 percent said none of their resolutions were fulfilled, SWS added.
The December 2019 survey also found that fewer Filipinos made promises for 2019 with 33 percent in 2019 while 46 percent in 2017.
The survey used the question: "Last year, did you make a New Year's Resolution or a list of things you want to do or change in 2019? (Noong nakaraang taon, kayo po ba ay gumawa ng isang New Year's Resolution o listahan ng mga gustong gawin o baguhin ngayong 2019?)"
The poll used face-to-face interviews of 1,200 Filipinos aged 18 years old and above nationwide. 300 each were interviewed in National Capital Region, Balance Luzon, Visayas and Mindanao.
The poll also used "sampling error margins of ±3% for national percentages and ±6% each for Metro Manila, Balance Luzon, Visayas and Mindanao."
Edited by JPV
Subscribe to INQUIRER PLUS to get access to The Philippine Daily Inquirer & other 70+ titles, share up to 5 gadgets, listen to the news, download as early as 4am & share articles on social media. Call 896 6000.