Only 9 of 17 bills Durterte certified as urgent passed in 17th Congress
MANILA, Philippines — Only 9 out of the 17 bills certified as urgent by President Rodrigo Duterte were passed into law during the 17th Congress.
Records from the Presidential Legislative Liaison Office (PLLO) showed that as of June 7, 2019, President's priority bills passed into law this year include the much-delayed 2019 General Appropriations Act, which Duterte signed on April 15.
The passing of the P3.662 trillion national budget was delayed over questionable allocations and alleged insertions.
Also passed was Rice Tarrification law or RA 11203, which would let rice imports flow freely into the country after problems in the staple's supply pushed inflation to new highs in 2018.
Congress also passed the Universal Health Care Act or RA11223, which seeks to give all Filipinos health care coverage and benefits.
Other laws passed during the 17th Congress were Republic Act (RA) No. 10924 or the General Appropriations Act for Fiscal Year 2017, RA No. 10952 or Postponing the 2017 Barangay and Sangunniang Kabataan Elections, RA No. 10963 or the Tax Reform for Acceleration and Inclusion (TRAIN), RA No. 10964 or General Appropriations Act for Fiscal Year 2018, Joint Resolution No. 01 or the Joint Resolution Authorizing the Increase in Base Pay of Military and Uniformed Personnel in the Government, and RA No. 11054 or the Bangsamoro Organic Law.
Among the urgent laws bypassed by Congress include Raising the Excise Tax on Tobacco Products, Security of Tenure Bill, and the P1.61-billion supplemental budget for 2018.
Other urgent bills bypassed were the Budget Reform Act, the Reserve Officers Training Corp (ROTC) for senior high school students, and amendments to Public Service Act, the Foreign Investment Act of 1991, and the Trade Retail Liberalization Act. (Editor: Eden Estopace)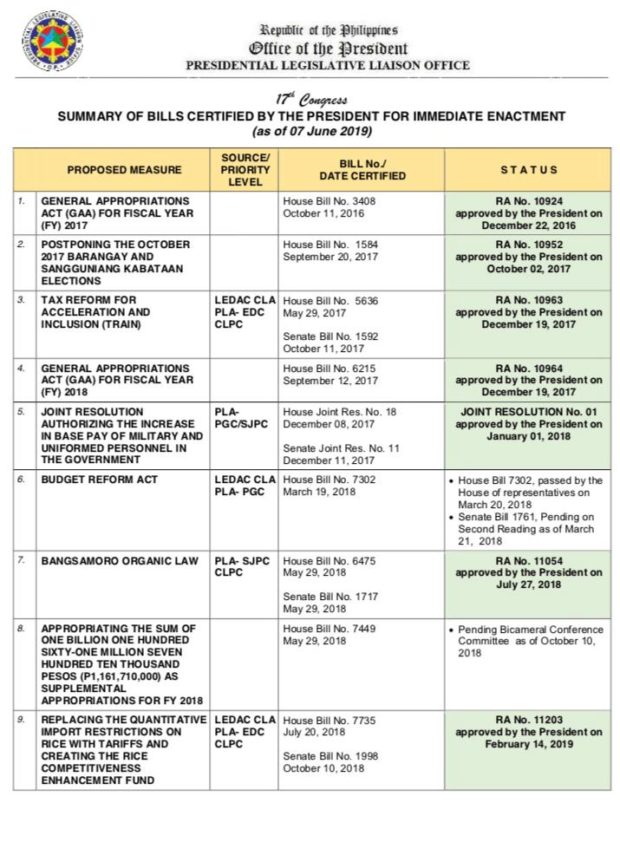 Subscribe to INQUIRER PLUS to get access to The Philippine Daily Inquirer & other 70+ titles, share up to 5 gadgets, listen to the news, download as early as 4am & share articles on social media. Call 896 6000.