SWS: Satisfaction rating of Duterte administration drops to 65%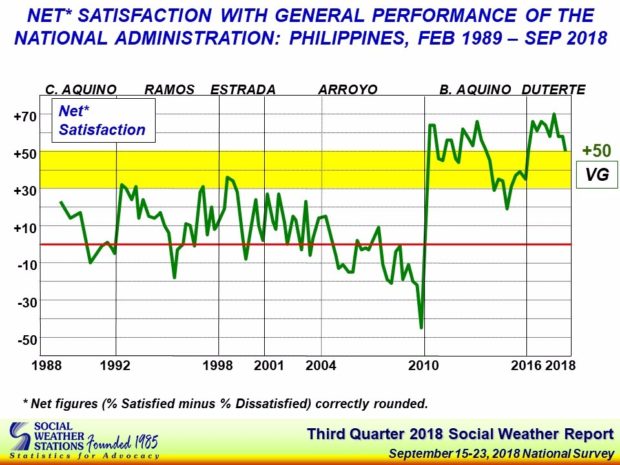 The net satisfaction rating of the Duterte administration suffered an eight-point drop in the third quarter of 2018, Social Weather Stations (SWS) survey results showed on Friday.
The latest survey conducted from Sept. 15 to 23 revealed that about 65 percent of adult Filipinos were satisfied and 19 percent were neither satisfied nor dissatisfied while 15 percent were dissatisfied.
The latest rating suffered significant drop compared with the 72% in June 2018.
However, the net satisfaction rating for the September 2018 survey had a net satisfaction rating of +50 which was lower compared to June 2018's +58 (72 percent satisfied and 13 percent dissatisfied).
The present administration's rating decreased by 14 points in Visayas with +42 in September 2018 and +56 in June 2018.
In Balance Luzon, it fell at 6 points with +48 in September 2018 from June 2018's +54 while in Mindanao, it dropped by 9 points to +67 in September 2018 from +76 in June 2018.
In Metro Manila, the rating was down by 7 points from +47 in June 2018 to +40 in September 2018.
The rural net satisfaction dropped by 13 points with +54 in September 2018 compared with +67 in June 2018.
Meanwhile, the urban net satisfaction was +45 in September 2018, down by 4 points with June 2018's +49.
The September 2018 survey had a face-to-face interview with 1,200 adults with the age group of 18 years old and above. There were 300 each interviewed in Metro Manila, Balance Luzon, Visayas and Mindanao.
The survey had sampling error margins of ±3% for national percentages, and ±6% each for Metro Manila, Balance Luzon, Visayas, and Mindanao. /jpv
RELATED STORY
72% of Filipinos satisfied with Duterte admin — SWS
Subscribe to INQUIRER PLUS to get access to The Philippine Daily Inquirer & other 70+ titles, share up to 5 gadgets, listen to the news, download as early as 4am & share articles on social media. Call 896 6000.